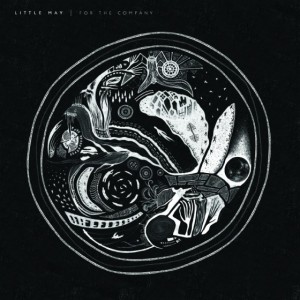 Australia's alternative music scene is burgeoning currently. After the success of Antipodean wordsmith Courtney Barnett and her angular, spikey point of view songs, Little May arrive to the British shores with an album that could easily match the craftsmanship of Barnett's.
Opening with 'Cicadas', the three-piece introduce the record with four minutes of atmospheric 'oohs', punctuated by lead singer Hannah Field's fast-paced delivery. If the listener expects a record full of 'Cicadas', then by the second track, 'Sold', the atmospherics are replaced by a toe-tapping drum pattern, Field's voice overdubbed to match the harmonising with her bandmates.
The production on the 11 tracks that make up For the Company is expertly crafted; little wonder, as Aaron Dessner (he from The National) was behind the desk. His light touch can be felt all across the record, his love of orchestration most apparent on the brooding 'Bows and Arrows', Field's vocals dripping with the resignation of a lost love; "Don't act like this is our last touch…again."
'Seven Hours' carries a washed-out, peaceful vibe to it, Field's delivery languid, the guitars woozy in the background. It is easy to picture this being played late-night on stereos by the beach in sunny climates.  The track comes to life around the 90 second mark, the drum beat driving forward, the night moving forward towards the break of day. As a piece of initially quiet instrumentation, the build up to the crescendo works well, and the band make it all seems so effortless; testament to their songwriting abilities.
'The Shine is Brighter at Night' opens with the chords of a keyboard, shortly joined by Field, who then sees her vocals joined by a simple percussion beat. Field's repetition; "Rest my eyes I don't want to see you/rest my brain, I don't wanna know…" perhaps sums up the end of a relationship in the best way possible.  The Shine, as mentioned in the title, perhaps alludes to the dreams we, as people, can't control at night, when ex-lovers can return and cause havoc with our feelings.  Perhaps this is the nature of the human psyche. One could apply a psycho-analytical slant to this track alone, and many will interpret it differently. What is apparent, from this record, is that Little May have got the potential to be a big force in years to come, and can easily follow in the footsteps of fellow atmospheric band, Daughter, who are achieving success across the globe.