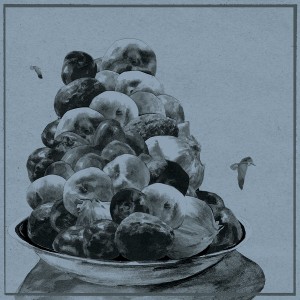 I first stumbled on Frances Quinlan through her song 'Bruno Is Orange' back in 2006, becoming slightly obsessed with it. It felt innocent, risking tweeness, but there was an articulate strangeness to these playful yet dark lyrics and their sing-song delivery.
Nine years and several releases since, Frances Quinlan has developed a much heavier sound: Hop Along is a full band, raucous and powerful, and she uses the whole of her voice, moving between rawness and sweetness in a way that might appeal to fans of both Regina Spektor and Bikini Kill. She plays it like a guitar, pushing into distortion then reeling back to melodic softness, making her a compelling live performer:
Having turned to songwriting when she realised that she didn't have the patience for a novel, Quinlan's lyrics are fully-realised narrative vignettes, often centring on heartache and anger, but delivered with an intensity that's close to joy. Flies like a butterfly, stings like a bee: not twee at all, although Hop Along's style keeps a kind of intimate youthfulness.
Painted Shut opens with 'The Knock', centred on a knock at the door and the line "the witness just wants to talk to you". The song's shifts are never completely expected, so that when all the guitars swell in a huge wave it's genuinely ecstatic. 'Buddy in the Parade' is slightly gentler, but ends with Quinlan pushing her voice to the point of pain. 'Horseshoe Crabs' is about straying from the given path, beginning with childish adventure – "hey did you hear me mom, […] against your wishes I went into the woods alone" – then moving into nostalgia: "woke from the dream and I was old, staring at the ass-crack of dawn". Nostalgia turns out to be a bit of a theme in this record, looking both forwards and backwards: in 'Happy to See Me', Quinlan sings wishfully: "when I'm old I may see people from my past, and they all will be happy to see me", while 'Texas Funeral' tells of a man's death and fears disappointment, disillusionment: "none of this is going to happen to me, none of this is going to happen to me".
'Powerful Man' has perhaps the most compelling, important story: remembering, age eighteen, seeing a child beaten by their father in a school playground, and the injustice and helplessness of this. "Your dad told you not to look at me: down came the fist hard – upon your head – I was the only other adult around, I was the only other adult around, […] He said, 'she's not gonna help you' […] I just thought – he looked like a powerful man."
'I Saw My Twin' is at full power all the way through, so the more restrained opening of 'Well Dressed' is welcome, Quinlan's voice and the guitar in a responsive duet, weaving in and out of each other. Hop Along might want to play with more quiet moments amid their intensity, as these dynamic shifts are especially effective.
These are just some of the highlights; the narrative of every song is so detailed that they demand repeated listens, and can't be quickly summed up: each feels attended to and passionately wrought. Painted Shut is an invigorating, expansive, grungy, lyrically confident, ambitious and completely satisfying record by a band who sound like they've fully arrived.