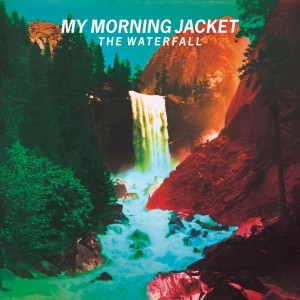 The idea was always there, in its infancy. The seed took root over many years.
So sings Jim James on 'In Its Infancy (The Waterfall)' – and, four years after their last album Circuital and 10 since the classic Z, My Morning Jacket are back in style. A typically sprawling journey through rock, folk and psychedelia, The Waterfall plays to the band's many strengths while sidestepping the odder diversions of 2008's Evil Urges.
If 'Believe (Nobody Knows)' is a slightly sluggish opening, the catchy 'Compound Fracture' quickly provides a sense of where the album is heading before it really hits its stride over the remainder of its first half. 'Like A River' is an apt title for a song that twinkles prettily into being while the quasi-title track is perhaps the album's stand-out moment.
Pink Floyd come to mind on 'Only Memories Remain' and 'Spring (Among The Living)' – throw in 'Tropics (Erase Traces)' and there really are a lot of brackets on this album – while 'Thin Line' actually mentions "crazy diamonds". Elsewhere, a pair of jaunty-sounding songs actually contain conflicted romantic messages – "You're sweet and sexy, but…" amid the chiming power chords of single 'Big Decisions' and an amicable approach to a break-up on the tender, country-hued 'Get The Point'.
James is 37 now and, as hinted at in the album's lyrics and discussed in recent interviews, has been through the wringer both emotionally and physically through his career. But if this strong set of songs is any indication, there's plenty of life in MMJ yet – and James has even suggested the next album might not be so long in coming.
For now, though, be sure to enjoy all this one has to offer – there's plenty to go at.
Words: Tom White