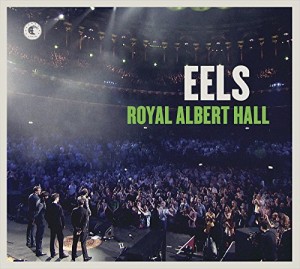 Live albums can go ether way. Sometimes they seem like nothing more than a sonic souvenir of the band's last tour for their existing fan base. But at their best, they make you stop listening to the studio albums. After the Eels were given the honour of playing the Royal Albert Hall last year, it was the kind of event which seemed destined to end up on disc – a chance for all the fans of this quirky, endearing band to hear a great celebration of their career.
Eels live are brimming with geeky, dark-lensed magic while staying faithful to their sound on record. They can see you but you can't see them. They'll let you in via the music, and the banter between songs that E clearly loves. He's playing with the crowd, so much so, there are moments when it seems he has forgotten to get on and play the actual songs. When he does, we hear some but not all the highlights from Eels' 20-year back catalogue. There are also some of the odder moments which help show what makes this band so wonderful, not least their cover of 'When You Wish Upon A Star'.
It's all quite safe though, and where the band took risks in the past this all seems very comfortable. Perhaps middle age is too apparent. Too many songs reside in a near identical terrain, which E seems to refer to as 'bummer rock'. He introduces half of the first side of this feast that way, and after a while it can begin to feel a little tedious. It is not until the second disc that there is any sense of energy. It is a short-lived change, but nevertheless the second half of this set feels all together more confident and comfortable, as if they are only just settling in to the grand setting they find themselves in. They've stopped trying too hard to impress the crowd with banter, and are focusing on the songs – the reason that everyone turned out in the first place.
When Eels are good they are magnificent, but too much of this record feels like treading water. No doubt it is a huge honour to be able to play the Royal Albert Hall, but they fail to dazzle under the brightest spotlight. Given all the gold they have in their back catalogue, it seems something of a shame. Hardcore fans will find plenty here to enjoy, but it's not going to replace any of the studio albums in anybody's Eels collection.