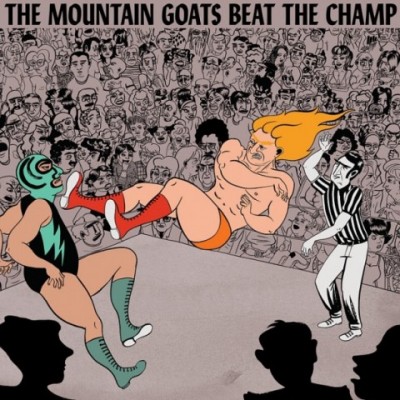 The Mountain Goats are responsible for my all-time favourite record. The Sunset Tree is frontman John Darnielle's angry and beautiful ode to his troubled adolescence. Since its release in 2005, Darnielle has released five brilliant LPs with themes from the Bible to mental illness. Beat the Champ is the first one that conjures the intense pathos of his Sunset Tree days.
Beat the Champ is about the pro wrestlers of John Darnielle's childhood, 'an avenue of escape' he describes as 'cheap theatre'.
As a songwriter, JD is the master of exploring fringe culture, and Beat the Champ is another fascinating album. We delve inside the characters' psychologies, and become intimately acquainted with the sport's highs and lows, the bravado of the fight "I will stab you in the eye with a foreign object" and the racing dark thoughts of post-match solitude in 'Unmasked'.
There's a touch of the confessional in The Legend of Chavo Guerrero where Darnielle recounts supporting the wrestler as a child "I need justice in my life, here it comes" as his stepfather "called him names to try to get beneath my skin". Grounding the record in Darnielle's backstory.
Beat the Champ is a mixture of all things past. The horns of Transcendental Youth return on 'Foreign Object', the gentle piano of later albums is combined with raw, guitar-driven catharses "Werewolf Gimmick". With touches of the visceral anthema that defined the band in their early years, the Mountain Goats have used all the tools at their disposal to create a rounded, captivating and understated record.