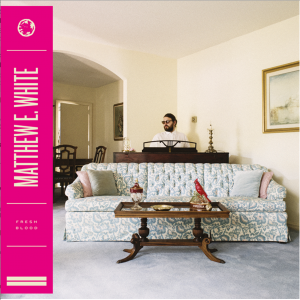 Matthew E. White's 2013 debut Big Inner was a cracker – a sublime work that appeared from nowhere. It encapsulated both old and new – Motown soul and pop, a touch of country, and lullaby vocals combined to produce one of the albums of the year. Following up a record like that would present a challenge for any artist.
Fresh Blood is another bold slice of brass and strings, the sound enriched by orchestral sweeps and lush backing vocals – creating perfectly-balanced musical bombast. But it is less immediate than its predecessor – perhaps lacking the element of surprise that gave Big Inner that joie de vivre on initial listens. The record starts slowly – the opening tracks feeling almost like a warm-up. It's the kind of music you have to let under the skin, inviting it close to the senses.
When it gets into the groove the magic of is debut returns, but it doesn't quite manage to reach the same crescendo at the finish. Where Big Inner was a sustained assault, Fresh Blood seems to fade in and out. Much of Big Inner's success can be placed on the fact it was only seven tracks long – with not an idea out of place, and you wonder if this cut have been cut from the 10 tracks which make it up.
It is the simplest songs that create the highlights here, most obviously 'Fruit Trees' and 'Circle Round The Sun'. White's carefully-crafted sound remains brilliant, but Fresh Blood doesn't seem to have enough great songs to sustain it. It shines in places – with half the record undeniably brilliant – but much of the rest leaves you wanting. White set himself mighty high standards, and perhaps we're being greedy in wanting him to hit them every time, but you already sense he is feeling the pressure himself.