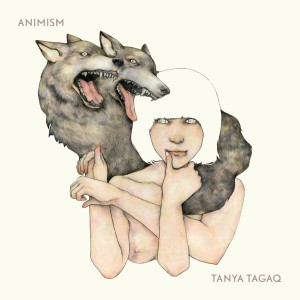 Inuit throat-singer Tanya Tagaq surprised many pundits by winning Canada's Polaris Prize in 2014 ahead of a number of more established names, not least the Arcade Fire. The prize is awarded for 'artistic integrity' and, listening to Animism, Tagaq comes across as fearless. She has collaborated with Björk, which might give you some idea: experimental, with unearthly vocal chords. Other points of comparison might be Maya Ratkje, Jenny Hval, Diamanda Galas or Mike Patton, but Animism is a pretty wild album, and doesn't fit well-known categories.
It opens with 'Caribou', a cover of a Pixies song: orchestral strings with tense undertones, drums, and a dramatic voice. A comparatively 'safe' sound to start with, reminding me of musical theatre (imagine Kate Bush and STOMP collaborating). Tagaq then goes fully throatal in 'Uja', which is more exciting than any semblance of a familiar voice. It's incredibly rhythmic, to the point that it could be played in a club… an underground club. There's some lovely bass in the background.
'Umingmak' (which means 'musk-ox') sounds like two worms having an argument, then more like a shamanic séance, and finally a rave. 'Genetic Memory' feels like a mildly stressful dream, while 'Rabbit' is more epic (it's a bit Watership Down). As far as I can tell, it's a visionary quest: the song feels like a narrative, and is pleasurable to listen to, strangely intimate. There's whispering close to your ear, birdsong.
In 'Tulugak' (Tulugak is a figure, part-raven, part-man, in Inuit myth) there are cawing ravens, and what sounds like a dwarf on a mission, getting progressively out of breath. The ending is increasingly frenetic, to the point that it loses me a bit, but there's some ear-popping drumming.
'Flight' contains a wondrous duet between guttural throatiness and a wafting soprano. It's one of the most transporting parts of the whole record, startlingly beautiful in its contrasts. Then there's 'Fight', which as the title suggests, is more stressed and relentless: "when they try to take you down you fight". It ends with screams.
In 'Damp Animal Spirits' you can hear Tagaq duet with herself, switching from growling to singing, making her own percussion. The energy increases until she exhausts herself. She ends with 'Fracking', on which she sounds unambiguously negative: a long, primal groan or moan that gets under the skin and sounds like it's emerging from the earth. Throat-singing originated in the imitation of animal sounds, and Tagaq ventriloquises a wilderness. Animism isn't something to listen to passively; you need to enjoy its strangeness. It's bold and visceral. The sheer skill of voice involved is also pretty exciting.