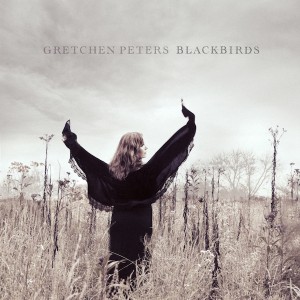 Gretchen Peters' Blackbirds is bookended by two songs of the same name. The opener is electric and confrontational, the closer a milder and softer reprise. Powered by Peters' voice – lived-in, loaded, tainted with regret – the chorus of the opener is grandiose with a melody to pounce upon. It's a fine doorway into this country-rock feast.
Her voice is at once sharp and piercing, delicate and loving. 'Pretty Things' is like a lullaby for adults, with a faint sinister edge that makes its loveliness even more tantalising. 'When All You Got Is A Hammer' is Peters in full swing, having the time of her life. It's jaunty and has an energy that's hard to refuse. After the second chorus the couple of solos that fill that window are short, sharp and driving. Three songs in and your attention has been well captured. 'Everything Falls Away' sounds like one of those tracks that is wholly influenced by personal sadness and experience. Much of the album comes from this kind of territory, but this track hits home the most, the deepest.
The music on each track is sublime, but the majesty of each song is Peters' voice, stark and powerful. She brings a charm and effortless grace to her songs, and she remains in fine fettle as she edges towards her sixties. It's a lovely record, with more than enough to deeply satisfy fans and critics. When it's at its best the album is stunning, and in its lower points it is still able to hold you and retain your attention very well. Check it out, a very satisfying release to add to her catalogue.