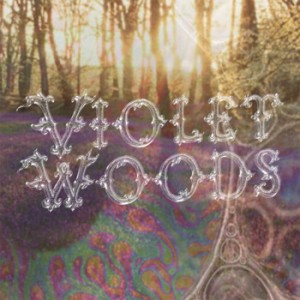 Violet Woods' debut effortlessly bursts from the blocks. The jangly sixties-style lead guitar and dreamy lead vocals are an immediate step back in time – into a mystery land. Opener 'Electric Fascination' is a little druggy, psychedelic, then a bridge sounding a tad like a further trance is briefly visited before the slow groove of the track is back. It's a great start to the album and is a good introduction to the band.
'Over The Ground' opens with a funky bass line and light percussion with fills, in fact its tempo is dreamlike too, and then the lead guitar enters with a great hook, similar to the first track, before it drops and allows the voice to capture the listener in a brand new dream. So, yeah, it sounds like it's the 60s, and it's a pretty good attempt to step back in time from this bunch of guys from Cambridge.
'Here' has a classic and romantic guitar sound, one you feel you must have encountered before but haven't, it's just such a nostalgia gem. It isn't a classic, but it's a good guitar pop song. It's hard to get overly excited about something that is nothing new at all, but the songs herein, overall, aren't bad at what they do, and would surely appeal to a good number of music fans. The album never quite matches the highs of the first three tracks thereafter but there is a lot here to check out and some of the band's nods and winks to other music are pretty enjoyable, for example, the guitar explosion at the end of 'The Dancer'.
The ending of 'Take Your Time' goes on far too long though, as does the album closer 'The River'. The second half shows a definite dip, as though the best ideas and the ones executed well were all used at the start of the record. In the end, and after such a strong start, it feels like a slight disappointment, but there is enough to here to pass the debut album test, even if it feels that the band's next album would have to be a perfect tribute to the sixties if they are going to keep getting away with borrowing quiet so blatantly. If you like a gorgeous tribute to the sixties listen to American band Woods, for a single shaded tribute see Violet Woods. The latter band just needs to broaden its spectrum of colours.