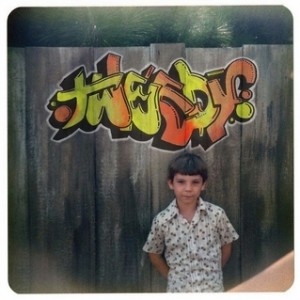 Jeff Tweedy has long since proven his worth in the general landscape of popular music. He has turned from young alt-country man into middle aged alt-rock legend. This time he wears another new hat, as he offers Tweedy's debut album. Tweedy comprises himself, his 18-year-old son, Spencer (known for his enthusiastic air drumming since his young appearance in the Yankee Hotel Foxtrot-era film I Am Trying To Break Your Heart, about Wilco's struggles with making their masterpiece over a decade ago), and several other musicians dropping in and recording some splendid parts for these 20 songs. That's right, why make a simple debut album, when you can make one filled to the brim, with ideas, love and your own personal energy?
First of all, this is a beastly feast of a record, with a running time of 72 minutes. The duration might surprise, but it's three years since Wilco's last album The Whole Love, and Jeff Tweedy is a man who never seems to stop working. It's like Wilco but not. Something is obviously different, but the lyrical approach, structuring and delivery are all the same. Tweedy Sr's lazy, heartfelt and sumptuous singing is ever reliable and magnetic.
It's a lot to get the teeth into. To really sink them in takes a few listens. This much material rarely hits home quickly. The standard is high throughout. It's evidently Tweedy. The voice and songs could belong to nobody other. There are highlights, and very little by way of filler. On an album of 20 tracks it's hard to know what the aim is, but it's an easy assumption to make that to have a double vinyl copy of this record and to turn over three times and become a part of the listening journey would be a very special way to experience such an album.
It feels like Tweedy's most intimate, touching and personal set. Just as he is teaming up with his son and sharing something about their relationship, it's the perfect time to unveil some further evidence of an interesting modern musical character. From his early days in Uncle Tupelo to his now 20-year career with Wilco, this is another turn down a different road and reveals what happens when Wilco the band is not present during the music making process. Tweedy here is a little lighter, a little more tender, and this album is a wonderful addition to a magnificent artist's canon.
It's natural that 20 songs on one album feels like too much, but if anyone can pull it off then Jeff Tweedy is one of them. It's to relax to, to get lost in his hazy, dreamy laments and brighter moments. It's to get you through the winter ahead, and just to have there. To those whom Tweedy is well known it's inevitable that repeated listens will pay great dividends and a valuable collections of songs is herein unveiled; to the uninitiated it might seem like a low key set of alternative songs that aren't easy to get your stuck into and might just pass you by. Either way, it's one of America's finest modern songwriters. He's still at, with plenty still to say, and it's a lengthy set that thoroughly deserves to be heard. There are so many brilliant moments, and many magical, beautiful and quirky flourishes across these songs it's almost impossible not to smile.
He's still got it, only this time there's another Tweedy in tow, who more than keeps up with it, even leading the show in parts, and it's a treat indeed. Welcome to Jeff Tweedy's world, it's anything but boring.