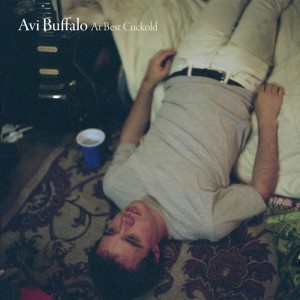 You could be forgiven for having forgotten about this band. Avi Buffalo's wonderful and summery debut hit like an early decade bullet to the senses. It wasn't just the sound and how good the songs were, but the potential the band, led by Avi Zahner­-Isenberg, had. He was only 19 back then, which only added to the excitement. For whatever reason the follow up has taken four years to find our ears. It's compact, there are 10 songs, and once again it doesn't disappoint.
It's hard to gauge the band's sound and direction. It's certainly affected and influenced greatly by classic past American bands, such as The Shins, CSNY, Mercury Rev and The Byrds. He definitely rises to match that, and many of the songs here sound familiar and rather stunningly melodic. He certainly has an ear for a tune, a knack that would seem to readily spill from the tracks. Whether it is seen as well-trodden earth being further worn, or simply a man able to write sensationally sweet and inspiring songs might remain an answer for each listener. What does capture the attention are some of the sexual lyrical references. Unsure whether it is simply for attention, or unavoidable for the songwriter as other lyrical concepts might be for other lyricists is unusual and somewhat fascinating. It's hard not to focus on some of the overtly graphic words. It's certainly honest and lends an element of intrigue to the band, despite how crude it is.
Avi himself, upside down on the cover, is himself a fascinating prospect. It's impossible not to want to know more and hear more, and it's exciting to ponder what he might get up to in the coming years. It's a definite hope that it won't be another four years, though perhaps that was a one off as he adjusted to being known at such a tender age. No, there is nothing new here, but his way with a tune is so strong you cannot help but feel it's like holding a jewel in his hands. When the songs are this good, you set yourself high hopes and others have perhaps even higher ones of you, somehow it doesn't feel like he is going to let anyone down though.
Picking individual songs doesn't do much justice here, as the songs blend well together as a cohesive unit. The whole album feels like an evocative moment in life, a pause for reflection, to consider the beauty and pain, the love and loss. It's filled with moments to cry, shiver and rejoice to. Even more is possible, surely, and that is another reason why this album is so pleasurable, it hints and nods to a mind blowing future. The boy has done good, let's see what happens next…