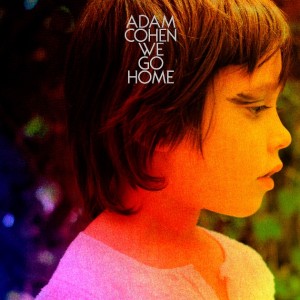 When I first heard about Adam Cohen I greeted both he and his music with a subtle expectation and a preconceived idea of what he should be as an artist. When Leonard Cohen is your father – a Canadian national treasure and cultural phenomenon – I'm sure that such reception is natural, and would be the same with other musicians who follow in their father's footsteps, from Jackob Dylan to Sean Lennon and beyond.
However, I soon found that Adam Cohen was a strong musician in his own right and like his father only in name. His new album, We Go Home, is a masterpiece that shows his strength as a performer, and that his music truly speaks for itself.
As his fourth solo album, it seems that Cohen has really hit his stride, with each song greeting the listener with warmth and honest, heartfelt words delivered with his hoarse yet tender croon. From the start, the songs are delicate and incredibly stripped down, with modest instrumentation allowing for Cohen's voice to lead the way. His lyrics mimic conversation, from words of advice in 'So Much to Learn' to the plea and heartbreak of 'I Swear I Was There'.
In 'So Much to Learn', Cohen describes the necessity to "fight for the ones you love" and "work for the life you want", a dose of reality that shows his maturity as an artist and juxtaposes popular ideas of gaining wealth and fame overnight. In 'I Swear I Was There', his focus is turned to a lover whom he begs not to "become a memory, a bittersweet piece of my history"; a work of pure poetry and grace.
Every track on We Go Home contains an intimate atmosphere and seems to have an almost anthemic quality from "Love Is" to the title track "We Go Home", with its uplifting chorus and driving, rhythmic beat. After hearing this album, it's safe to say that I am now a fond admirer of Adam Cohen's music, and I fully recommend that others listen for themselves and join the club.
Words: Oli Ferenth