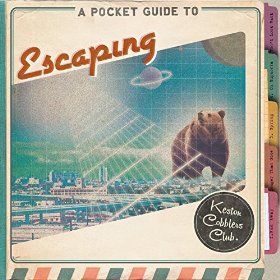 Any new Keston Cobblers Club release is met with great joy in our household. After 'discovering' the band and their multi-instrumental talents at Glastonbury 2013, their songs have become a staple of playlists and car journeys, so much so that our three year old daughter can sing pretty clearly along to live favourite 'Your Mother' from 2012's full length album One, For Words.
So fair to say that when A Pocket Guide to Escaping was announced the anticipation was high – not just from this small corner of Somerset but also from the legions of fans that the band are building up through mind blowing live shows. This, their first release since 2013's A Scene Of Plenty, does not disappoint.
These five songs that, from the very start and the scuttling familiarity of opening track 'Run Away', conjure up images of travelling on a countryside train journey with no concrete destination. It's Keston Cobblers Club at their foot stomping best.
'Longer Than Gone' further exemplifies the unmistakable vocals of Matthew and Julia Lowe and build to gushing crescendos that form the track's poetic choruses. The ease with which the band – brother and sister Matthew and Julia, Tom Sweet, Bethan Ecclestone and drummer Harry Stasinopoulos – pull songs like this along with such ease highlights the extraordinary talents that lie behind the music.
'Spring' is a sweet reflection of lazy days in the sun and a fades out to the delicate tones of Ecclestone's tuba that hold the song together.
'Oh Euphoria' takes a step away from the norm of Keston's back catalogue but that's no bad thing. The song skips along to a funky beat and gives a glimpse of yet another layer being added to their repertoire and of a band who are more than comfortable in their ascendance into one of the finest folk bands in the country.
Closing track 'Won't Look Back' is classic Cobblers and one that's bound to go down a storm in the band's upcoming UK tour. It's a succulent  three and a half minutes that captures the heart of Keston Cobblers Club and most of what they are – stunning vocals, incredible and varied musicianship and an all round performance of utter joy.
If you haven't seen the band live yet then please do. Whilst EPs as wonderful as this show you what they're all about, they completely come alive on stage, captivating the crowd and making them feel like a part of the performance each and every time. With these five new tracks and a barn storming back collection to hear and revisit you won't be disappointed.
A Pocket Guide to Escaping makes you want to take up with the authors of the songs and travel to nowhere in particular and I challenge anyone having a bad day to put this EP on and to not have their moods immediately altered. It's masterful, once again, from this rather special band.