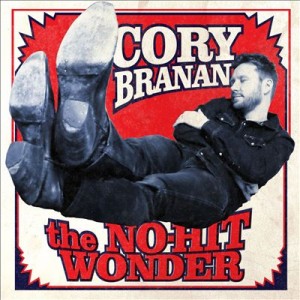 Cory Branan is the musician's musician, feted and adored by luminaries of the business, including the likes of Frank Turner, Chuck Ragan, and fellow rising Country star Caitlin Rose, the latter guesting on the fantastic steel-stringed 'All the Rivers in Colorado'.  As is often the case with the favourite musicians of our own favourite musicians, they tend to be perennial underdogs, fighting for their place in the music world, something which Branan, on this, his fourth record,  makes a light-hearted reference to through the album's 'No Hit Wonder' title.  Branan may not be a commercial hit, yet, in combining sharp and clever lyrics with infectious melodies, this record is a joy to listen to from beginning to end.
At his heart, Branan is part of the alt-country movement, a confessional singer-songwriter with a worn and weathered voice, however, the diversity of styles here take the listener from the FM ready sound of 'You Make Me', through the beautiful ode to love and lust in 'The Only You', to the foot-stompin' hoe-down of 'Daddy was a Skywriter', all the while keeping the quality levels at a consistently high level.  The 'No Hit Wonder' is a character Branan inhabits in the track of the same name, singing the tale of a musician who lives "blood to string, hand to mouth, gig-to-gig, North to South",  the kiss off found in the final line, "boys-it is what it is." It isn't hard to believe that for Branan, this lifestyle isn't very far from the truth.
This record won't sell the amounts to propel Branan into the realms of chart success on either side of the Atlantic, yet, it deserves to find a place in the record players of many who simply appreciate witty lyrics, catchy melodies, and the hard work and graft that goes into creating records such as this.  Branan's self-appointed moniker of the 'No Hit Wonder' is something that will invariably stick, but on the basis of the continued quality of his song writing, he'll be making lots of fans who disagree with his assessment.