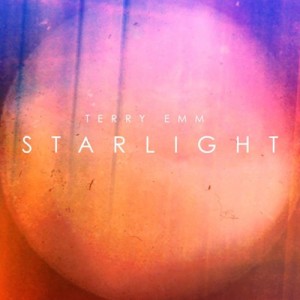 Starlight – the third album from Bedfordshire's Terry Emm – comes two years after the dark moods of Petals Fallen Off The Sun. This time out, we find Emm in a more reflective and happier place with the added help from former Clarkesville member Michael Clarke and violinist Calina De La Mare making this a laid back and predominantly acoustic record.
Mare's strings welcome us to opening track Wilderness and Emm's vocals create a comfortable introduction to the album that sets the tone for what's to come. Second track 'Forever and After' draws comparisons to Del Amitri and contains the carpe diem message "Be what you like for all time/ For ever and after" and points to a more optimistic outlook. It's a pop gem that doesn't feel out of place at all with the rest of the album.
Title track Starlight and single Loved and Never Lost have already featured on For Folk's Sake, and both gave us just the merest glimpse of what was to come from the full release which contains plenty more of the same. The tender 'Is There An End To Your Love' is a sweet call to a lover who provides limitless chances to keep hold of something special. Whether it's autobiographical or not, it's a stand out track that shows another vulnerable side to Emm. The subtle 'Sunset' is a great choice for a closing song and is beautifully arranged to bring the record to a fitting conclusion. This is a mellow and thoughtful album that you can't help but put on repeat on a chilled out afternoon in the sun.