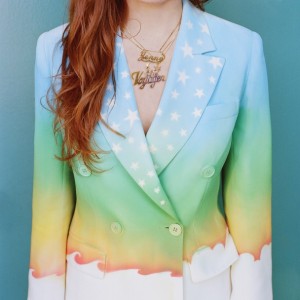 Jenny Lewis' third album has been a long time coming. The voyage of the broken relationship that informs the great part of this album has indeed been an arduous journey, but the resulting record rarely dips below sublime and will be something for others to take great pleasure from.
It's pretty saccharine. It's also quite heavy and honest in its lyrical content. It is by no means perfect, and there are moments when the message seems rather forced, but for the most part it's a great return for an artist baring her heart on her sleeve for all to see.
Opener 'Head Underwater' is a good starting point. It starts with a swirl of vocals and a gentle slow musical suction before punching in with a weighty pop verse and chorus. The vocals are at the fore, remarkably clear. She wants every work to be heard and absorbed. When it kicks in it's luscious pop.
By 'Late Bloomer' she has perfected the gorgeous pop she seems to have aimed for over the whole record. It's a highlight. The second half of the record is perhaps marginally stronger. The closing title track is the only way the album could sign off. Once you've heard it, it truly has driven home that the woman has been through a tunnel and is now re-adjusting her eyes to the light outside. Not only that, but she's shared a great deal of it with her fans and anyone prepared to listen.
It doesn't hit every mark for a masterpiece, but the openness of lyrics, the majesty of most of the melodies and Jenny's voice here make it a highly pleasurable voyage which is certainly worth dedicating some time to. Not one of the year's best, but not very far off at all. For once, something radio friendly but with some substance to it – better than 99% of the pop that gets onto the modern radio.
Perhaps next time she will have the freedom to explore beyond the relationship this record details. As it goes, its a great source of inspiration to her, it's a welcome return and she deserves a warm round of applause indeed. Jenny Lewis has made a very good pop album, no more and no less.