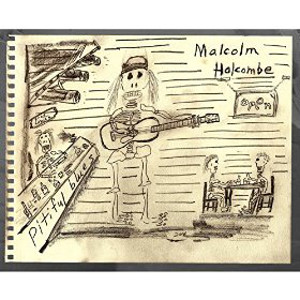 Many who have preceded Malcolm Holcombe in roots music, from Hank Williams to Johnny Cash, have faced a fair amount of hardship which had left them at a dark crossroads in their life. Just as many have succumbed to a life of excess, others have survived and grown stronger, and Malcolm Holcombe is in this latter category. As a former alcoholic and hell raiser from North Carolina, Holcombe's songs bear a piercing and raw honesty that is often fabricated in other contemporary singer-songwriters, with the harsh grit in his voice and brooding demeanour adding to his image as a rugged mountain man, weathered by the ages.
Pitiful Blues – Holcombe's tenth album – contains a good mixture of balladry, Americana and ground-stomping blues that leaves listeners of all persuasions fully satisfied and hungry for more. His guitar playing, rough and rhythmic yet expertly fingerpicked, is accompanied with slide guitar, fiddle and banjo which add a character and a backdrop to Holcombe's words.
Holcombe's signature vocal style is as rough as the mountainous terrain that had surrounded him as a child, and lyrically he is better than ever. In 'Savannah Blues', he describes "feeling lost and hurting, and thirsty like before", and that "nobody sees me when I look them straight in the eye", adding and incredibly desolate tone to the song and suggesting to the listener that his art imitates life. In other songs, such as 'For The Love of a Child', there is a nostalgic and calm in his voice and its overall tone.
It can be safely said that this album is truly one of Holcombe's best, and if you find this man playing at a venue near you I thoroughly recommend for you to see him with your own eyes.
Words: Oli Ferenth