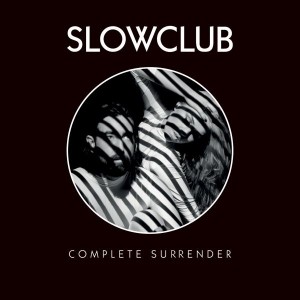 Slow Club are on the cusp of becoming huge with their third LP, Complete Surrender; a more mature, fuller-sounding record than Paradise, and a million miles away from their debut, Yeah, So? Comprised of multi instrumentalists Rebecca Taylor and Charles Watson, and augmented by former Guillemot Fyfe Dangerfield on Bass, this is the record which should see Slow Club achieve the critical acclaim and success they so deserve.
Having ditched the lo-fi nature of their past two records, Taylor and Watson have adopted a more Northern Soul approach; whereas once the pair would have improvised how to create the sound they wanted, here, strings and brass are employed, working alongside Taylor's voice, which is an instrument all on its own. The most obvious change from their past records is the spotlight given over to showcasing Taylor's quite obvious vocal talent, something which has been underutilised in the past.
One listen to 'Not Mine To Love' (already set to be a 'classic' centred around the collapse of a relationship) will confirm how Taylor's confidence in herself has grown through making this record-indeed, the ranges she reaches here and on the title track recall pop chanteuses such as Mariah Carey and, whisper it quietly, the Queen of Soul, Aretha – there is a real vitality to her projection and her voice really brings the record alive.
That isn't to say that Charles has pushed aside, rather the opposite, his lead vocal on the soft, piano driven ballad of 'Number One' is one of many highlights, and it's placement half way through the record means it serves as a delicately crafted interlude. His musicianship is something to be commended, too, whether crafting smooth guitar lines or driving the sound forward on piano, or allowing Taylor the opportunity to shine, his influence is felt throughout the record, and none much so than on 'Paraguay and Panama', which sees Watson assume lead vocals, accompanying himself with the quiet strumming of an acoustic guitar. It is one of the best things Slow Club have written, and serves to show how talented both Watson and Taylor are.
Having teamed up with Colin Elliot, who has produced work by fellow Sheffield crooner Richard Hawley amongst others, and recorded the album in their home town, Slow Club have crafted a record which serves not just as a reminder as how far they have grown, but as an indication of how big they could become. It is a work of art, confident in its own skin, and destined to become an all-time classic. I can think of no other people who deserve the success Complete Surrender should bring.
Words: Joe Sweeting