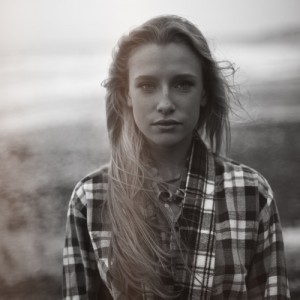 Billie Marten is already fast becoming a bright, new presence in festivals and venues across the country – and she's only 14 years old. Despite this, her songs contain a beauty and world weary maturity that has the ability to leave those twice her age green with envy, and her new EP, Ribbons, is a fine example of balladry and musical tenderness that is mastered to perfection.
Frankly, this EP is a must-hear for fans of gentle, finger-picked melodies and near-whispered vocals. Marten's delicate voice and guitar style provides an atmosphere similar to both Laura Marling and the Smoke Fairies, but with a power and timid conviction in her deliverance, best shown in the haunting 'Cross' and a re-imagined cover of La Roux's 'In For The Kill'. The influence of artists like Laura Marling on Marten's work is obvious, with a subtle crack in her voice and perfect instrumentation that doesn't drown the listener in unnecessary sound yet provides a fitting backdrop to her every word with a simplistic arrangement of percussion and strings.
Lyrically, Marten is really something special. The title track, 'Ribbon', depicts "the secrets of the city" seen through the eyes of the singer and provides the listener with vivid imagery of London shrouded in darkness. She describes the "elusive light shining strange upon my face" and "the train trailing sparks of gold" that adds a surreal and fantastic aura to the otherwise humdrum capital and suggests a maturity far beyond Marten's years. In 'Unaware', she talks of a bittersweet infatuation followed by 'I'd Rather', in which she explores the idea of belonging – subject matter that can be interpreted and understood by anyone in today's world. In all, I thoroughly recommend a listen to this EP and look forward to Marten's future compositions and presence in the British folk scene.
Words: Oli Ferenth