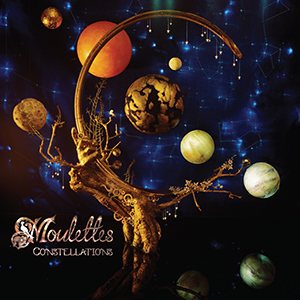 There was never any danger of the Moulettes turning out a dull album. Constellations is a punchy, bolshy creature, replete with a dense polyphony of sound and harmony. Building on the alt-folk experimentalism of 2012's The Bear's Revenge, this album dabbles with even zanier sounds, bringing an oriental edge to their rambunctious medley of strings, woodwind and whatever else comes to hand.
They make a bold noise, that's for sure. Words ricochet like bullets through the rabble-rousing crowd of sound; you can bet you'd get your money's worth to see them live.
However, there's a very real element of siren-song – something both alluring and destructive in their noise. They make compelling music but at the same time it feels overwhelming: I found I couldn't listen to the whole album in one sitting. The songs themselves are quite long, and while this is no bad thing per se, it does make the album a difficult beast to digest. The divergent instrumentation sections display an array of talent and ideas, and if indulged in just one or two tracks would have provided an alluring cadenza for what is undoubtedly an immensely skilled bunch of musicians, yet it feels like every every song is wont to wander off a little too long, and by the time it comes back it has lost us a little.
Overall this is the sticking point of the album: it is stuffed too full of too much. The Moulettes suffer from a surfeit of talent, if anything – but they need to be able to hone it so as to give each part the attention it deserves. That said, they are making some of the most interesting music on the circuit at the moment, and true innovation needs the space to be imperfect. I enjoyed Constellations – I just think I'll enjoy their next album even more, when it comes.
Words: Sarah Sharp