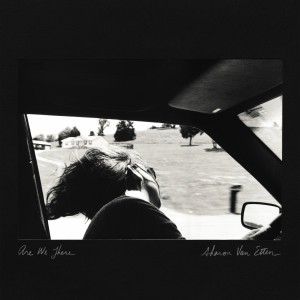 Sharon Van Etten has become one of the most splendid songwriters on earth. Not that she hasn't had a somewhat torturous journey, but she is starting to really make her mark on popular music. Perhaps popular isn't the right word. She isn't commercially lauded as she is by the possibly more knowledgeable critics. They certainly know what a wonderful secret she is. She is a woman who can twist and turn an epic spell in a four minute pop song. This is a perfect demonstration of that. Are We There sees Sharon at her troubled and expressive best. Her voice soars in and out of these tracks like a woman possessed.
It's the sound from inside love's tortured bubble. A woman in chains, still able to reach for her guitar, write words and melodies and then sing to the world about her total torment. It isn't easy to listen to initially, but she certainly makes beautiful music. Somehow her seemingly extraordinary pain, in the end, is highly listenable. The more you spin it the more it sinks in, the more it dazzles. In fact, each listen only enhances the album. The relationship you will build with this could be as intense as the one she documents herein. It's brutally beautiful.
The most surprising thing is that, if she truly were free, you can't help but feel she might be even better than this. The pain holding her down is certainly worth exploring, but as a clearly all consuming emotion, festering in every song her wings are completely clipped. Hopefully, these songs release her a little more, from the trappings of her pain. Or perhaps it's her all driving force, without which she'd be much less.
From start to finish it screams open hearted surgery through song. In fact, it's almost as if the picture of the relationship is so vivid you can genuinely feel it and see the pain of the images before you. If the relationship truly is over it's startling then just how present tense it all feels. It's hard to believe it's a thing of the past. Scathing, dry, heartfelt lyrics drop from her tongue throughout every track. It's certainly difficult to pick out key lines, as so much packs a punch.
Even songs are hard to isolate as highlights, as it's such a wonderful collection. A few are a little weaker than the majority, but along with 'Taking Chances,' 'Every Time The Sun Comes Up' and 'Your Love Is Killing Me,' that were all previewed before the album's release, 'I Know' and 'I Love You But I'm Lost' stand out. There are others, from start to finish nothing is worth skipping. The ferociously honest message of 'Your Love Is Killing Me' feels like the jewel in the crown. The listener almost needs to recover from one if the hardest but yet most rewarding six minutes on any album you'll hear all year. It's like she collects you up, let's you live her pain and puts you back down on the ground after. It is a startling song.
Sharon Van Etten, from here you truly can go anywhere. If thy wings can flap, we are in for a treat in the future. For the time being this is an almost classic.
Words: Dominic Stevenson