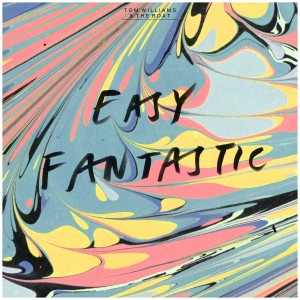 Tom Williams and his sea-faring backing band, The Boat, return with their third album Easy Fantastic, funded entirely through Pledges made by fans of the band. For those who have heard other records by Tom Williams, there hasn't been much of a change in direction from Teenage Blood – Williams still writes in the folksy-blues sound he has made his own over the past few years. In this case, it isn't a bad thing – Williams is clearly a believer of the old adage; 'if it ain't broke, don't fix it', and when he can write songs as good as the 11 on offer here, there is absolutely no urgency in forging a new sound. The only thing alluding Williams has been commercial success; it seems as though there is only room in the charts for one folk troubadour and currently that position is held by a certain Frank Turner, a crying shame when Williams is this good.
Throughout Easy Fantastic there is an almost fatalist undertone, reflected in the music produced. Riffs crunch, Drums pound and Williams' weathered, soulful voice is as powerful an instrument as any. When TW & TB 'do' the blues, they aren't simply paying homage. They are as raucous as the best of them, and as sorrowful as they come; one listen to the raw sounds of '25', which sees Williams declare that he's '25, still alive…I ain't finished yet…', confirms that this band are something special. Elsewhere on the record, we get the band in full on rock treatment ('Hurricanes'), we hear a string section deliver on 'Suzanne', and we get the jaunty, piano playing band on lead single 'Any Day'. MOR this most certainly isn't.
This leads onto the curious question of why Tom Williams & The Boat are still relatively unknown. Their music is slightly too leftfield for Radio 1, not bland enough to be played on Radio 2, and so they have found a home on BBC 6 Music, which, despite a high volume of listeners, can often find bands like TW & TB lost in-between the 'big' releases by The Pixies, or Black Keys. Yet, this is music which deserves a pedestal such as the ones afforded to the major-label bands. It really is simple; if you like your music full-blooded, with a bit of heart, soul, and character, then TW & TB are your go-to band. It may not Fantastic, as the album self-describes, but it is most certainly 'bloomin good', and come the next record, Williams may hopefully be rubbing shoulders with the bands in the big leagues.
Words: Joe Sweeting