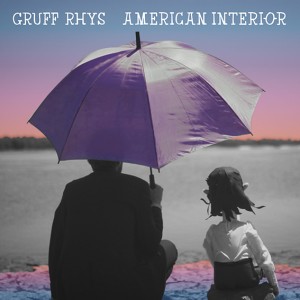 Gruff Rhys doesn't like doing things by halves. This, his fourth (and latest) solo album, comes as part of a trifecta, encompassing a book and film, both to be released in the not too distant future. American Interior is a concept album, detailing the travels of 18th Century Welsh explorer John Evans, who sailed to America in the hope of finding the Madogwys, a Native American tribe supposedly fluent in Welsh. Evans never found this tribe, but along the way he wrestled with alligators, got captured, escaped and blazed a trail across the United States.
In 2012, Rhys himself followed in the footsteps of Evans, playing gigs and recording along the way, of which the results are heard here on the album – and what an album this is. It is full of warmth,
wit and charm, with Rhys an affable narrator. There is no set musical theme here; the palette lurches from the relatively raucous '100 Unread Messages', through a song sung entirely in Welsh ('Allweddellau Allweddol', loosely translated as 'Keyboard Key') to a country-tinged instrumental played on pedal-steel, 'Tiger's Tale', yet as a whole, it works. Even taking away the narrative of John Evans, each song works on its own, something which is testament to the craftsmanship and ability Rhys possesses.
One of Rhys' greatest strengths lies in how he can create a song so inherently catchy it becomes a permanent addition to your thoughts. On the title track Rhys has produced one of the songs of the year, an echo and reverb laden introduction to Rhys' motivation for his US road trip ('Your visions carry me…your dreams will carry me to brave new worlds'), a song seeped in the spirit of Americana. There are no bad songs here on this record, just some which are slightly better than others. It seems that each time Gruff Rhys releases a new record, it gets reviewed incredibly well, receives airplay across the world, before becoming overshadowed by other, bigger-named records out around the same time. American Interior deserves wider acclaim, not only due to its frankly brilliant and somewhat bonkers source material, but also because as a piece of music it is fantastic. You'd be mad to avoid this.
Words: Joe Sweeting