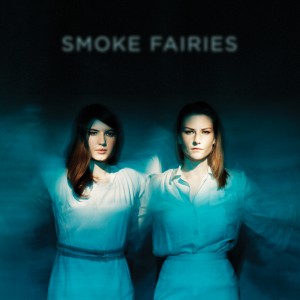 It may come as something of a surprise to learn that the Smoke Fairies, at some point in the all-too-recent past, were on the brink of calling it a day; pausing at a fork in the road and pondering which path to take. Thankfully, they opted to carry on, and the fact that this, their fourth album, is eponymously titled could possibly signify a simple statement of being. But rather than continue down a road previously travelled, the pair have performed a sharp body swerve and taken an atmospheric stride forward into slightly unfamiliar territory. If their bluesy debut is a dot on the horizon, and Blood Speaks embodies the rugged bridge to pastures new, then this LP represents their first airy steps upon it.
The lively first track, 'We've Seen Birds', demonstrates an apology of sorts from Jessica Davies to bandmate Katherine Blamire regarding her apparent cold feet, and offers an uplifting and optimistic start, insisting that "we have to get this right" alongside feelings of being "lost without you by my side". But despite this earnest avowal, there has been a separation of sorts: vocally, the pair have distanced themselves from each other with their familiar harmonies replaced with isolated whispers and wintry tones. It's only occasionally their voices synchronise but when they do – invoking the broodiness of, say, PJ Harvey or Kate Bush – it's all-encompassing and delicious.
They still have the ability to turn their heads – albeit rarely – back in the general direction of the bluesy folk that characterised their earlier work most notably with 'Shadow Inversions'; a gloriously crunchy stomper, not completely dissimilar to Led Zeppelin's version of 'When The Levee Breaks' in its delivery. But there's a sense of wanting to do something different here; a focus and ethereal gloom that swirls around the production, and it sparkles with understated sheen. 'Your Own Silent Movie' is a dreamlike gem of crescendos and ghostly vocals, 'Hope Is Religion' titillates with its quiet shuffle and ambiguous wordplay, while 'Eclipse Them All' is pervasive in its melodic drones. And through all the introspection, the album ends almost as it begins on a note of positivity with 'Are You Crazy?' – swoon-some in its catchy folk-pop. It's an incredibly well balanced collection of songs; confident, moody and bristling with unassuming clarity.
In spite of – and possibly because of – their little "should we or shouldn't we?" moment, you get the impression the Smoke Fairies are attempting to creatively push themselves into and beyond the ether. They still possess the eerie mysticism that permeates their sound, and their vocal structures are as exquisite as ever, but their otherworldly folk is undertaking subtle shifts; slowly, and surely, into something altogether more expansive and thought-provoking.
Words: Chris Peet