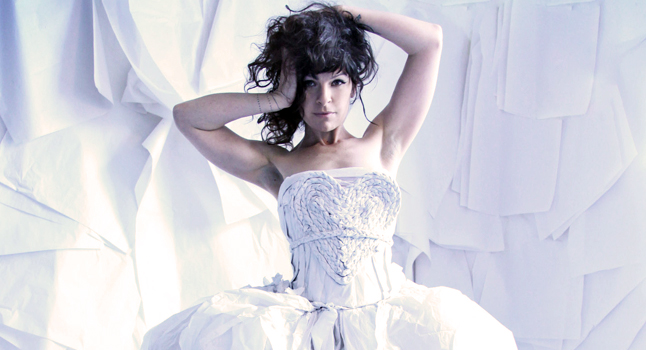 Any regular listener of Guy Garvey's Sunday afternoon slot will be familiar with his relentless gushing over Jesca Hoop – a California born songstress who, having married Elbow's tour manager, is now based in Garvey's native Manchester. Just last week in fact, 'Garv' somewhat hyperbolically labelled Hoop "the only truly complete human I have ever met."
Would I say the same thing? Well, Jesca could be a total dragon on a Sunday morning hangover for all I know – tonight though, she is an absolute delight.
With just an acoustic guitar and two backing singers for company, her hauntingly deft vocal acrobatics take centre stage. Even stripped down, the melodies at the heart of set openers 'Hospital' and 'Four Dreams' are so damn jaunty that I find myself shuffling into some sort of embarrassing cod reggae skiffle, much to my date's dismay. Thankfully though, I'm spared further embarrassment by Hoop's insistence that if she plays more than two up-tempo songs in a row, she will in fact vomit.
The pace from here on is infinitely more sedate, the effect though is no less intoxicating.  Between songs she is a bubbling geyser of self-effacing charisma, during them, she is a force of nature -'Whispering Light' and 'Murder of Birds' in particular shimmer with effortless, romantic warmth. In fact, when an unfortunate barmaid drops a glass to the floor, not one gaze is averted from the stage – such a spellbinding presence is Hoop
As set closer 'The House that Jack Built', ebbs into the night, I'm left feeling much like the song's protagonist – totally and utterly bereft.  So hypnotic Hoop's set has been that it seems almost churlish to leave in a hurry. Instead, the audience remain stood, just for a minute or two, drinking in the warm glow she's left behind. Is she a complete human being? I have no idea. But she's most certainly a complete talent.
Michael Regan