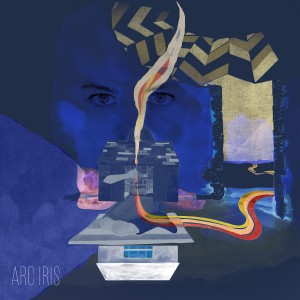 Former Low Anthem front-woman and ex-NASA researcher Jocie Adams has returned in typically unorthodox style with her first record in her shiny new group Arc Iris.
While hearing Adams' voice out front might take a little getting used to, little else about this record will before you feel right at home. The songs change in style and mood continuously throughout, almost like they're all fighting for creative output and forgetting to stick to a theme. This is in no way a bad thing. It's nice to be kept on your toes and the whole 11-track record seems diverse and experimental. From the upbeat pop vocal "Doo-Wops" and 60's keyboard of 'Ditch' to the delicate piano and sombreness of 'Canadian Cowboy', to the swing-trumpet in 'Singing So Sweetly', the album is most definitely worth several repeat listens.
Thankfully, Arc Iris' line up is as diverse as their sound and features a very prominent trumpet player (Mike Irwin), who adds a real melancholic ambiance in all the right places. The cello (Robin Ryczek) and bass (Max Johnson) intertwine through many of the songs, and fold perfectly within the other instruments. The mixture of styles that have come together to make this record is mind-bogglingly expansive. Cabaret-folk, Klezmer, swing, and country all battle for attention. As soon as you've gotten used to one song, it's squeezed up against another, of a different tempo and style altogether.
Arc Iris have come in strong with an eclectic record, which may take a few listens to get into, but promises to be an investment that you'll be glad you took the time to make. With a sound somewhere between Regina Spektor and Dark Dark Dark, T-Rex and Sinatra, this isn't a record for anyone seeking a more of a straightforward approach to folk. But it's worth a listen, if only for the sheer heterogeneity of the sound.
Words: Joseph Merriman