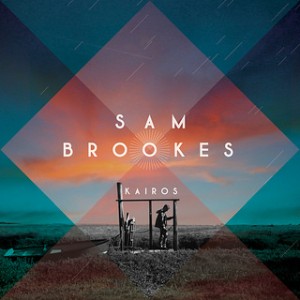 Sam Brookes toured with fellow acoustic artist Emily and the Woods last year, where he sampled a small pocketful of his new material. It was, however, the right amount, to enlighten the very few standing before him. What they saw, was, a few stripped back tracks from Kairos, a humble host, with tantalising talent. So then, how has it taken a year for the singer/songwriter to release this record? Well, proudly stated on Sam Brookes' website in bold print shows: "Supported using public funding by ART COUNCIL ENGLAND;" a community who work together to fund an aspiring artist. This organisation helped create a support base, and, as well as that, an album.
With just ten tracks, Kairos epitomizes the phrase "quality is better than quantity." Each track is carefully composed. Each guitar chord resembles those from Jeff Buckley's 'Mojo Pin'; poignant, yet peaceful. Brookes' music still carries a slight tarnished sound, not yet polished by mainstream moguls. The tempo of the record remains reluctant throughout; however, this doesn't eliminate any source of ascendancy.
A dance "drop" is replaced with heavier guitar strums, or melodious layering. 'Crazy World and You,' illustrates this, as the chorus creates a dramatic direction to the song, and Brookes executes this beautifully. 'Out in the countryside, where it feels like […] it's just, a crazy world and you,' echoes continuously in the second half of the track, and evokes a raw and romantic tone. 'This is the Place' falters slightly from the live version, as it introduces the melody through soundscaping. A haunting haze cascades over the track bewitchingly, and softly steps into the verse, where Brookes illustrates his lyrical ability.
'Breaking Blue,' closes the album and is the longest of the lot. Brookes sings of a 'plastic love that hangs around,' and a calm, yet climactic chorus sets in. There is a modest use of synths in 'Breaking Blue,' which picks up in the latter half of the track, after a few seconds of broken silence. Perhaps indicating, musical experimentation for future projects.
Kairos explores the solitary sound of Sam Brookes. These songs don't require gutsy guitar solos, or voluminous vocals, as Sam's smoothly sung notes would be drowned out. There's nowhere to hide with this album. The use of auto tuning is non-existent, and heavy bass lines are not required.
Words: Charlie Croft