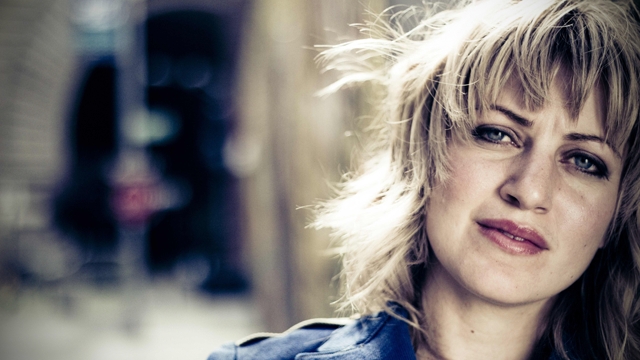 Fresh from a deserved triumph at the BBC Radio 2 Folk Awards, Anaïs Mitchell admits she is reticent to play anything from her most recent album – the beautifully adapted traditional folk of Child Ballads – as she feels performing tracks from it without her sparring partner, Jefferson Hamer wouldn't do it justice. Nevertheless, midway through her set tonight she performs the now award-winning opening track, 'Willie Of Winsbury' with such delicacy and character that it simply reaffirms just how accomplished a performer Mitchell actually is. The same can be said for her interpretations of several songs from her stunning folk-opera, Hadestown: her solo arrangement of 'Why We Build The Wall', stripped back to just guitar and lone voice tonight, is as powerfully stark as the album's expansive duet – a sign of a measured and confident artist at the top of her game.
Mitchell comments early in her set the pleasures of being a new mother, and being on the road with her family, frequently weaving brief anecdotes in between some of her finest songs from all of her recorded output. The themes of motherhood and family manifest themselves more noticeably during a performance of a new song entitled 'Now You Know', a thoughtful and tender tune combining exceptional symbiotic wordplay with a delicious refrain that the crowd are wholly encouraged to hum along to. Indeed, a substantial portion of her show is dedicated to a delightful request-and-play scenario with the audience offering obscure tracks, and Mitchell playing them off the cuff. It made for an eclectic set and simply showcased the strength and uniqueness of her work.
A special mention should be made for supporting artist Sarah Hayes, local lass and multi-instrumentalist from indie-folksters Admiral Fallow, thoroughly at home in the beautiful Little Theatre, herself playing arresting folk executed with fervour and natural grace. Her elegant and nostalgic songs, the stand out being 'Freddie Matthews', a mournful, unambiguous story about the 1972 Miner's Strike and the death of a young miner, are enthusiastically received while her self-assurance in telling her folk tales is captivating in itself.
The last word, however, should be saved for the headliner; Anaïs Mitchell continues to plough a musical furrow that's as bewitching as it is intelligent. Inspired by the excitement of motherhood – and with talk of a new album to be released in the autumn – she remains as outstanding and, more importantly, as relevant as ever.
Words: Chris Peet