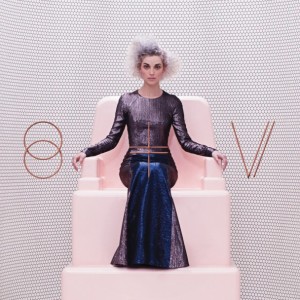 Annie Clark's 4th album under the 'St Vincent' moniker is comfortably her best work to date. Coming off the back of a fruitful partnership with lead Talking Head, David Byrne, Clark took just 36 hours off in between finishing the world tour with Byrne before beginning work on 'Rattlesnake', the opening single here, a combination of Kraftwerk meets 80's kitsch disco. The image that Clark presents-running naked in a wasteland away from a snake-seems very apocalyptic, almost other-worldly.
The latter is ever present in the record; even apparent from the sleeve, with Clark seated regally, overlooking us, her 'subjects' in her digital world. 'Birth in Reverse' carries on this theme, opening with the fantastic salvo: 'Oh what an ordinary day/take out the garbage/masturbate.' Annie Clark does not do ordinary, and is all the better for it. Lyrically, Clark is inspired, describing impish characters who 'snort pieces of the Berlin Wall', and who brag about 'when and where and who you're gonna bed next' (Prince Johnny). The core theme running through the record is about the digital life many people have inhabited, and the fact that the internet has led to an attention deficiency across society. The internet has drawbacks however, such as falling into vague online patterns of depression, be them sexual or otherwise, evidenced in the superb 'Huey Newton': 'Pleasure dot Huey dot Newton/ Oh, it was a lonely winter…' Seeking pleasure in the comfort of zero's and one's in the form of Binary is something which has pervaded life today.
We only need to turn on the television to see adverts for online dating websites, or download apps to allow people to 'hook up' for casual encounters. 'Digital Witness' finds Clarke at her most acerbic, her sharp tongue and wit sending up the culture of Instagram and Twitter, the self-gratification of uploading banal images of your life for acknowledgment of others. "What's the point in even sleeping/if I can't show, if you can't see me?' There are no seconds wasted, sonically, either. Clark has a fine ear for a tune, and there is no second wasted. It's the type of music which you find yourself humming seemingly out of nowhere. Unlike Strange Mercy's fearsome guitar breakdowns, resembling an ordered chaos, everything is much tighter here, much more dependent on synths and hooks. It is the natural progression of an artist who metamorphoses with every album. The voice still cuts glass, and the lyrics are still somewhat strange, but the ideas are becoming more progressive, creative, and the result is an album which approaches its subject matter with a subtle wink and an eye for dancing.
"When you're calling ain't calling back to you/I'll be side stage mouthing lines to you" sings Clark on the closing track 'Severed Cross Fingers'. Whilst her creativity is this high, and her talent so brilliant, it is very unlikely she'll be reliant on others to do her work for her. The impression Clark leaves is that this is just a taste of what is to come in the future from her, so strap yourselves in and take yourself to her other-world.
Words: Joe Sweeting