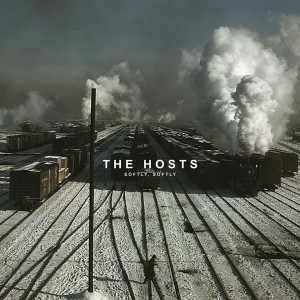 Sheffield has a fine tradition of turning out bands and musicians who, with their wit and humour, become indelibly placed in the public consciousness. Pulp and Richard Hawley are two that spring to mind, as are Slow Club and, of course, the international rock gods that Arctic Monkeys have become. The latest band to emerge from South Yorkshire are The Hosts, who somehow manage to combine elements of all of the above into their debut album, Softly, Softly.
Those with their ears tuned to 6 Music will have heard the lead single, 'September Song', being played across the station, often multiple times in a day. Slowly, it has gone from the C List, reserved for songs which the station tastemakers believe could achieve success, to the upper echelons of the B list, rubbing shoulders with the likes of The National and James Blake. It is a position earned on merit. At its heart, the song is a lament to broken relationships, with lead singer Tom Hogg telling his former lover that he 'was waiting for you to close your eyes, so I could say goodbye'. If this line looks cliché, Hogg's voice carries it with heartfelt sincerity. It is the delicacy to Hogg's crooning which breathes life and soul into the lyrics. There are only so many times that one can sing about love, or pen their thoughts about someone on paper, without recycling the many clichés which now pervade the subject, yet despite the narrative of Softly, Softly being definitively romance-centred, it sounds remarkably fresh.
Two tracks which follows similar stylistic patterns are 'In Dreams', designed for slow dances the world over, and the follow up, 'Wake Up', which is probably the most modern-sounding track on the record. My notes on the former suggest that in the wrong hands, a song like this would be a poorly executed Roy Orbison pastiche, but The Hosts have instead crafted a love song, not only directed at the girl in the narrators dream, but also for the music of Orbison and his contemporaries. These 10 songs pay homage to the doo-wop singers, the baritone crooners and the big-band sound of the 60's and 70's, and do so without irony or deprecation.
The Hosts have a talented singer with a rich voice, a band who can really play their instruments, and a style which is decidedly retro but with a modern twist. In this world of pop music as king, bands like these don't get the attention they deserve. For those who love someone, whether requited or not, Softly, Softly is an album to dance to, to love to, to take to your heart and cherish.
Words: Joe Sweeting