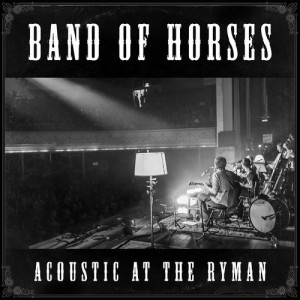 Recorded in April of last year at the legendary Ryman Auditorium, Band of Horses' latest offering feels very much like one following in the footsteps of Nirvana's MTV Unplugged in New York. Having released and toured their fourth record, Mirage Rock, this collection of ten stripped-to-the-bone songs is a breathe of fresh air from the band.
Band of Horses have enjoyed an undeniable rise in fame and prominence over the past four years, and their name has become as synonymous with 70s style guitar fuzz as country music and beards (which of course, they're sporting). Where better then, to stage an undressed set free from all the effects and studio magic than the former home of country music's the Grand Ole Opry in Nashville, Tennessee.
The fivesome have delved deep into their eight-year repertoire to produce the carefully crafted setlist, but to be honest, its diversity has done nothing for its sinuosity. While songs like 'Marry Song' and 'Wicked Gill' from early albums may appease the hardcore fan, the alteration in styles leaves the end product jumpy and bit-part. Some songs simply don't work individually either, like the popular 'The Funeral'. The original version's selling point is in its crescendo, where Ben Bridwell cries down the microphone in total futility. Unplugged, the song seems to trundle on, with no explosion of guitars to fully convey the strewn emotion.
But perhaps that's the point. Acoustic At The Ryman certainly does one thing. It highlights Band of Horses' musical talent at it's rawest, without hiding behind the warm fuzz that while we've come to love, we've also come to rely on. Recorded in super-quality Direct Stream Digital format, every vocal crackle and fret slide is discernible, and it's beautifully crude. 'Factory', 'Neighbor' and 'Slow Cruel Hands of Time' take full advantage of the high resolution techniques, as the reworkings begin to tell new meanings and tales.
If wild and expressive was what Band of Horses were going for, they've certainly achieved it. In taking this sidestep, they've added a wonderfully sombre record to their discography. This is them – scars, guitars, and all.
Words: Ben Barker