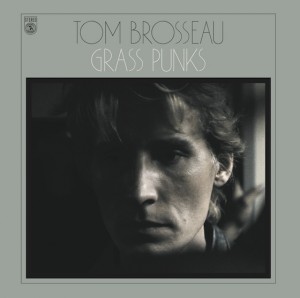 'I'll start with a scale pattern… and once I've found the stride, I simply close my eyes and drift away, simply leave the work to my fingers. And somewhere along the line a kind of notion will prick my ears.' Thats a quote from Brosseau in "Three Autobiographical Vignettes About Tom Brosseau" a triptych of films shot and produced by Sarah Morton, and released alongside his seventh album.
Musically, Grass Punks certainly feels grown rather than designed – nurtured from humble beginnings, and finally harvested at just the right moment. Those familiar with Brosseau will know that he is an exceptional guitarist, and Grass Punks shows that he is only getting better. In 'Love High John the Conqueror Root', the wonderful 'Green Shampoo' and (appropriately) 'I Love To Play Guitar' I can even hear, dare I say it, shades of John Fahey. Rest assured, I do not make that comparison lightly.
Brosseau seems to understand his voice as well as he understands the guitar. He works with its delicacy, its softness, and writes lyrics free of convoluted metaphors that manage that fine balance between the deeply personal and the universally relatable. 'Tami' is a song about a girl, but there are no swooning metaphors, just observation and reflection: 'I don't know why I am reminded of this – my very first kiss', 'socks pulled up to her knees, cut off stonewash lees, and the shirt from the florida keys…Tami'.
It's straightforward, but shows a wisdom that proves it's more than simple nostalgia – an admission that wherever the thought came from, whether 'Tami's' kiss was an unimportant moment, or significant and formative, it's worthy of reflection. 'Cradle your device', the first single released, deals with an everyday frustration, the shunning of the real world in favour of the virtual: 'I mean I'm wearing next to nothing, I even put on a little spice, I long for you to want me in your arms, but instead, you cradle your device'. It's a funny hook, but confronts a situation in which I'm sure we have all found ourselves at one time or another, as either perpetrator or victim, and reflects on the more general pandemic of the rejection of the immediate. Simple lyrics perhaps, but simple lyrics leave space for complex thoughts.
Grass Punks, then, is musically and vocally exceptional, and lyrically refreshing. Add to this the skill of producer Sean Watkins, who deserves a great deal of credit for capturing Brosseau's organic sound – there are no studio tricks here, just honest production for honest songs – and I would argue that this album will be on the 'best of 2014' lists of anyone who is lucky enough to hear it.
Words: Dave Fraser