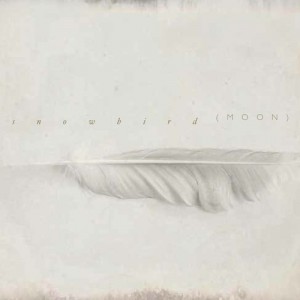 Snowbird, the project of Simon Raymonde and Stephanie Dosen, create music lush instrumentation, with an abundance of echo, both on guitars and vocals. Electronica fused with a strong folk song-writing style gives Moon a distinctive sound, and makes for an engaging listening experience.
The album starts on an intriguing note, with 'I Heard the Owl Calling My Name'. Echoing electric guitar weaves in and out of itself, setting the scene for Stephanie's cacophony of vocals, with phrases repeated and panned from different angles, creating an impression that the listener is standing in a garden at night surrounded by animals. 'All Wishes are Ghosts' demonstrates a sweeter mood, with lilting flute lines dancing alongside the main tune, free of any self-consciousness. The song floats its way into a glorious and optimistic end section, the refrain "Stay here my darling" reminding me of 'Kalypso' by Sweet Billy Pilgrim, whilst the flute flows through arpeggios.
The album steps up a level with the back-to-back gems, 'Bears on my Trail' and 'Porcelain'. The former shifts between D-minor in the verses, the sense of restlessness reinforced with short rising vocal phrases, and dreamier D-major choruses, with twinkling acoustic guitar behind. 'Porcelain"s suspenseful piano chords then set the scene, before the song reveals another dark-bright/dreamy verse-chorus dichotomy, the contrast adding to the emotional power of the melodies. 'In Lovely' is the most touching track on the album, a heart-wrenching tale of the singer's loss of a lover. Stephanie's high vocal melodies cut across rich and melancholic instrumentation, as the listener is drawn into her plight.
As expected from a former member of the Cocteau Twins, Moon displays an impressive wash of instruments, produced beautifully. The songs themselves all fall into one of two categories, the darker, more mournful tracks and the brighter, saccharine ones. In the latter, the instrumentation is often over-bearing, with little to grasp onto in the vocals, while the darker songs are deeply beautiful and show off Snowbird at the best of their abilities. Thus, while the fullness of the production can be a little unrelenting at times, Snowbird's sound is nevertheless distinctive, and Moon reveals several moments of brilliance.
Words: Ned Mortimer