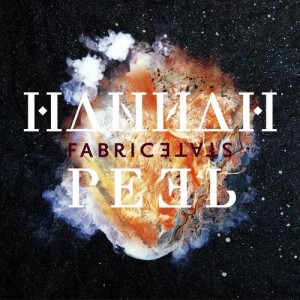 Hannah Peel is no stranger to compliments, and she's certainly bagged her share of supporters and collaborators in the few years she's been releasing music. Having already worked with Simon Tong from The Verve and Gorillaz fame and gained a Royal Television Award for best original title music with her song 'Chloe', it seems almost unnecessary to say that I liked this EP. But I do. From the outset there seems a rumbling importance about this collection, as, like a heartbeat, a thumping rhythm is beat out alongside echoing keys and her own voice floats through this void of buzzing energy.
This buzzing energy is 'Silk Road', Fabricstate's opener, which immediately proves itself to be far from the usual brand of female folk soloists. Whereas most artists draw either compliments for their lyricism or their musical ability, it seems prudent to say that Hannah Peel certainly has a talent for both, and not only does she know how they can complement each other, but how they can combine together into a seamless psychedelic sound. I say psychedelic because this, and second track 'Desolation Row', mark her out as a sort of bridge between the free spirited Linda Perhacs sound and the alternative indie sharp edge of Karen O. Speaking of which, the howling introduction of 'Desolation Row' is something that wouldn't seem out of place on Karen O's Where The Wild Things Are soundtrack, however, it soon descends into the full pop-infused orchestra that we have come to expect from the composer.
The award-winning 'Chloe' seems designed to make you tingle, and the dark bursts of strings and lyrics full of confessions of no regret for 'all the feelings of guilt we harboured, and conversations we had undercover' continue to add to both the story of an uneasy love, and the writhing musical force encasing it. Title track and EP closer 'Fabricstate' begins in a similar thought-provoking way, posing the immediate question: 'Is everything real?' It's these kind of questions that ebb and flow throughout the entire EP, as her soothing voice acts as a comforting guide through the fabricated dreamscape of music surrounding it.
The whole EP is like an electronic landscape of colour and pulsing tension, and left me with the odd sensation of not knowing whether it put me in a good or bad mood. I've since come to the conclusion that it was a bit of both. Fabricstate has the ability to really get under your skin, and the feeling of emptiness only comes from its ability to open your mind and its large, echoing, other-worldly sound. But, aside from the philosophy of it, there's no doubt that what she is doing is powerful, and if music is made to stir your emotions, then Hannah has definitely created a successful EP.
Words: Josh King