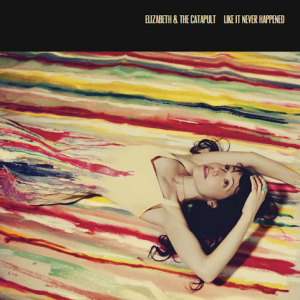 From the opening bars of plonking piano, you can tell this is an album that will do everything it can to joyously revive your faith in modern pop music. Despite the disregarding title of her third album, Like It Never Happened, Elizabeth herself has a whole wealth of experience to draw from, having been a backing singer for The Waterboys and The Shins, been cited as an inspiration to Anne Hathaway's Les Mis performance and used in the adverts for basically every big corporation going. If anyone has the power to influence you with pop, then this is the woman.
'Here's a happy pop song,' begins Elizabeth, in her saccharine voice, introducing the album in a way that is sure to convince any doubters that this is going to give you what you want, whether you know what that is or not. Like the old man in the song, it'll have you smiling and tapping your knee in no time. There is a definite sense of confidence that comes through immediately, and with a frontwoman somewhere between Regina Spektor and Florence Welch, there is no doubt that she has both the talent and the charisma to win us over.
But, just as we think we're in for 11 tracks of cheerful pop, 'Like It Never Happened' and 'Salt Of The Earth' burst in, the latter with a chilling echo to its spitting delivery, and I couldn't help but be reminded of Feist, who made her bed with 1,2,3,4 but continued to make great pounding dark music in Metals. Shoelaces carries on the trend with clashing guitars, and it seems that Elizabeth is determined to buck the trend with every song. The triumph of this album comes not from the fact that it caters to all tastes, but that it shows of all the aspects of Elizabeth & The Catapult's talent.
For fans of old folk there is 'More Than Enough', which plods along on an acoustic guitar, boosted by flawless vocal harmonies, and seamlessly, this dives straight into psychedelic pop number 'Please Yourself' which convinces you, in its Beatles-esque fashion, to have a go, so you can 'perform at your best', as she certainly is.
Throughout we are treated to constant twists and turns; an acapella backed lament, straight-up piano love ballads, bitter-sweet songs about poison that would suit a kids' TV show if they weren't so biting, and, finally, true, stripped-back beautiful lyricism in the form of 'Last Opus'. Here she sings of such a despairing appreciation for her art, that as she delivers the line: 'you're the masterpiece, lost inside my head, never to sound again,' you will certainly be hoping she doesn't mean it.
Words: Josh King