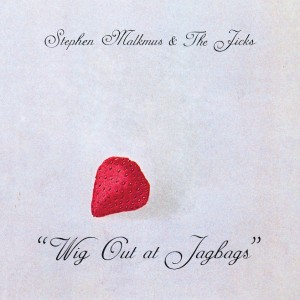 It may be hard to believe but Stephen Malkmus has now made more albums on his own or with his band, the Jicks, than he did with Pavement during their early 90's heyday (For the record, this is his 6th solo record). This latest effort, the brilliant titled Wig out at Jagbags, sees Malkmus continuing his trend of writing great pop hooks with lyrics to match. Case in point comes from 'Rumble at the Rainbo'; one minute 41 seconds of early 90's enthused indie, with a great bass hook circling Malkmus' lyrics about the current trend of reformations and big comeback tours; 'Come tonight
you'll see that no one here has changed/and no one ever will.' In the same song, Malkmus alludes to the lack of new material these reformed bands create, with 'cowboy boots' being the only new additions to this particular set of 'ancient dudes' playing 'punk-rock tunes'.
This collection of songs are often jangly numbers, carried by Malkmus' ear for a tune and fluency as a wordsmith, with the Jicks' musicianship offering a nuanced weighting to '…Jagbags'. It is the slower ballads which bring the overall quality of the album down; Malkmus here is happy to let certain songs drift without direction, 'Surreal Teenagers' a good example of a five minute song which would work so much better if halved in length. Nevertheless, on a whole, those who are fans of Pavement will find much to like here, even if Malkmus' declaration of 'tripping my face off since breakfast/taking in this windswept afternoon,' is somewhat disconcerting now he is 47 and decidedly in middle age rather than a sprightly 20-something student at university.
This record is aimed squarely at those who have followed Malkmus from Pavement and through his previous five LPs, and in this case, that isn't a bad thing at all. Afterall, why alter a formula which has worked for the past twenty years, in the process collecting a loyal fanbase? The old adage comes apparent here-'if it ain't broke, don't fix it.' Malkmus' craft is in creating hooks and songs which worm their way into your brain, and if that sort of thing is what you are into, '…Jagbags' won't disappoint.
Words: Joe Sweeting