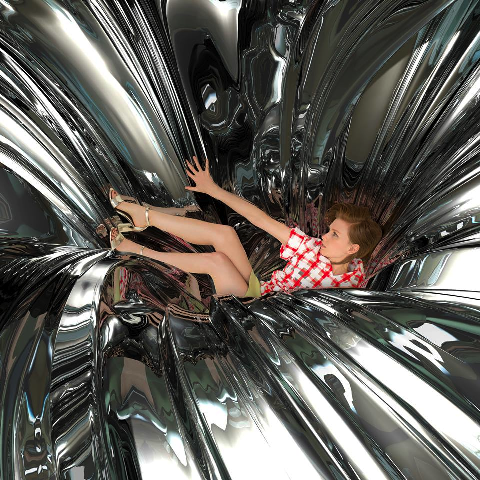 The stage at Hoxton Bar and Grill is tantalisingly populated with a flat screen, projector and mammoth percussion rig long before Cameron Mesirow, aka Glasser, takes to the stage twenty-five minutes late.  Apparently oblivious to such earthly mundanities as 'time', Mesirow very sweetly introduces herself and tells us she's delighted to be here, at which point we all forgive her for the slight tardiness.
'Shape', the first track from this year's acclaimed Interiors, begins almost organically as Mesirow sings, "I live on the beach," before a lethargic trip-hop beat drops into the mix with a plethora of other-worldly blips and wips. This encapsulates Glasser's musical approach perfectly, for Interiors is nothing if not the site of tension where the organic and man-made meet. Reinforcing this are computer-generated images of liquid metal which swirl and dance on the screens, while percussionist Shayna Dunkelman – a woman of phenomenal talents – creates a multi-layered, sonic landscape utilising the digital and the acoustic.
Conceptually, Interiors owes much to modern and postmodern theories of urban design, but musically gives a serious nod to Bjork's 1997 record, Homogenic, both in Mesirow's goosebump-inducing vocals and the icy precision of each note and effect. Mesirow herself is an unlikely front-woman, one moment demure in a 60's style dress, the next all angular, waving limbs or exhilarated dancing. Like Bjork, Natasha Kahn or Kate Bush, her performance is visceral yet controlled as on 'Design', which begins with a gasp and then segues into a complex, acoustic drum line which sparks an almost tribal response.
Mesirow and Dunkelman are a perfect duo, working in an uncanny symbiosis to create an audio-visual effect which is greater than the sum of its parts. The latter rightly receives more than one round of applause for her deftly impressive handling of a rig which might look more at home on a spaceship. Percussion also comes to the fore on 'Apply', from debut album Ring. More instinctive, tribal and raw, it illustrates the direction in which Mesirow is travelling with her sophomore release. This is followed by the exquisite 'Mirrorage', which did much to enhance Mesirow's popularity and which provides a satisfying conclusion to a whirlwind reverse journey.
It's all over in forty-five minutes with no encore to speak of, but the diminutive, dynamic figures on stage have delivered a set of such intensity and beauty that we'll forgive them that too, suckers that we are.