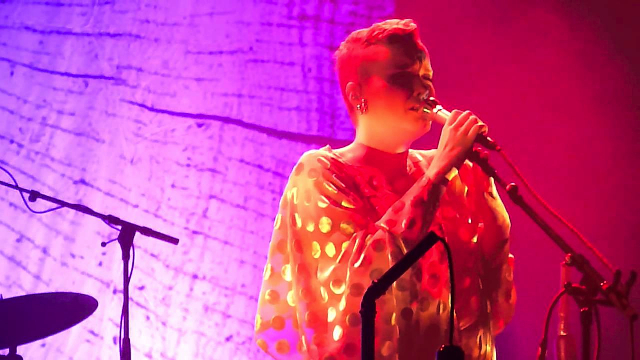 Over the last ten years, Ane Brun's career has taken the 'slow burn' route, with seven studio albums released independently on her own label, Balloon Ranger Recordings. This patience has paid off, resulting in a solid fan base of devoted followers in it for the long haul. Tonight's show is a visual representation of this – a sold-out show at the grandly cavernous Kentish Town Forum that is ablaze with light and theatre.
Opener, 'The Light From One', from 2011's incredible It All Starts With One, is a handy metaphor for Brun's career thus far, beginning in a quiet, understated way and inexorably building to a heart-bursting, intense climax with the words 'I'll need both my hands to hold my own.' No less impactful but more reflective is 'My Lover Will Go', from 2011's A Temporary Dive, as Brun tells us, 'I cried a bottle of wine over you.'
With each new record, Brun has become increasingly theatrical in a surreal, ironic and slightly detached way. Tonight she is accompanied by a small army of singers and musicians – including two drummers – and a jaw-dropping light display, but it never feels indulgent or 'too much'. Rather, the old-fashioned, industrial lights pulse in time to the melodic line, and an eerie green wash descends, transforming the stage into the deck of a ghost ship. Like Brun, it is expressive but not melodramatic.
In addition to highlights from her back catalogue, Brun takes real pleasure in playing covers of Cyndi Lauper's 'True Colours' and, more unusually, Alphaville's 'Big In Japan'. Anyone sceptical of the art of 'covers' needs to check out the recently released 'Oddities' in which Brun successfully offers a unique reinterpretation of songs such as Beyonce's 'Halo' and Amerie's '1 Thing'. It takes an artist assured in their own song-writing abilities to take on pop beasts such as these, and real skill to transform them, as Brun does, into something totally different.
Brun herself is resplendent in a silken, fin de siècle-style trouser suit, quietly confident and grounded – and indeed she should be. Experiencing the set as a whole, it becomes clear that here is a prodigious talent. To quote an ugly but highly relevant phrase, it really is 'all killer, and no filler'. From towering pieces such as the re-worked 'This Voice' to the introspective 'To Let Myself Go', we are reminded again and again that Brun deserves a place among the great songwriters of the 21st century – and if that does sound melodramatic and over-the-top, then so be it.
Youtube clip: Kristianlw