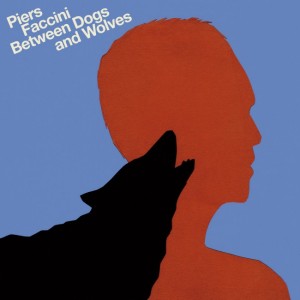 Piers Faccini's Between Dogs and Wolves is a beautiful album, for three simple reasons. His eclectic and unassuming vocal style is gently balanced on the music, falling somewhere between Nick Drake and Kings of Convenience. The instruments are deployed with maximum effect, creative but accessible folk guitar permeating the album, with choice appearances from various others, giving the songs a subtle variety. Finally, the songs grow exponentially with every listen, revealing more layers whilst pivoting around particular moments, protruding each time.
The main reason I like Faccini's vocals is the softness with which they're performed and recorded. You get a sense that he's really carefully placing every note onto the instrumentation, whilst not trying too hard to make any of it 'catchy'. This also applies to the melodies themselves; nothing sounds overly insistent; rather, it's seemingly effortless, albeit clearly the product of much time and craft. The songs betray various influences; a bit of blues in the chorus of 'Broken Mirror'; jazz in the chorus of 'Eyes Wide Shut'; the strong folk edge in 'Like Water Like Stone'; the George Moustaki' feel in French track 'Reste La Marée' (try Moustaki's heartbreaking 'Le Facteur' for a reference).
This variety is carried through into the instrumentation, with several instruments dropping into the mix at various points to vary the music, contrasting against the piano and guitar staple. The layers of accordion from the middle of 'Missing Words', combined with chorus vocal harmonies, create a Bon-Iver-sans-production vibe. What sounds a bit like tremolos on a bouzouki in 'Broken Mirror' and 'Feather Light' give a dark and tragic edge to those songs; the piano line repeated towards the end of Italian-sung 'Il Cammino' adds a playful air to it; the haunting wind flute line a minute into 'Feather Light' is simply stunning.
These vocal and instrumental variations and textures, along with some of the lyric phrases, create momentary highlights within the songs. The line "I've love you and I love you still/ I want you, but I lost my will" in 'Black Rose', along with the piano cacophony solos later in the song, are particularly memorable in this way. Three minutes into 'Missing Words' (probably my favourite track, though it's a tough contest!), the suspending high whistling sound is powerful, and the post-chorus instrumental breakdowns in 'Eyes Wide Shut' remind me of the beautiful intro to 'Misread' by Kings of Convenience.
Between Dogs and Wolves is pure, gentle and varied, maintaining a strong folk core whilst exploring styles and textures around it. It is attention grabbing, rather than attention seeking, and I would highly recommend it to anyone who appreciates subtlety in their music, and who favours the gentle over the fierce.
Words: Ned Mortimer