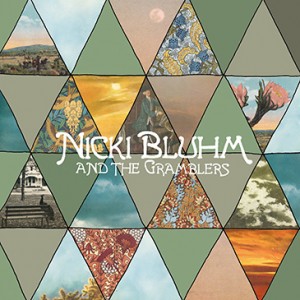 The self-titled album of Nicki Bluhm and the Gramblers, a San Francisco-based six-piece, rolls in with the positive relaxed swagger of a group confident in its abilities. Opener 'Little Too Late' is chewing gum fresh, like they've just turned up, plugged in and started playing. Nicki sings the story of a man imparting some life advice whilst passing through town before the police catch up with him. It's soulful, light and fun and has some tidily written pop lyrics: "The night got long/we sang some songs/and we shared some stories too/We popped the top on the last cold pop/as the sky was turning blue".
There is a warm American vibe throughout the album. 'Hey Stranger' is a country tune about the one that got away. The country sound continues when Nicki duets with her husband Tim on ''Til I'm Blue'. Backed by a melodica, chugging guitars and brushes on drums, the harmonies sound as sweetly sad and persistent as a freight train whistle.
Nicki's voice is the central feature of the album. It is soft and soulful but retains clarity by being precise. It is upbeat and bluesy, and like a vintage valve amplifier it breaks up pleasingly when she pushes it. The Gramblers are a good supporting match for Nicki's talents, letting Nicki take centre stage for the main part but injecting interesting moments on their own such as the twisting guitar work in the middle eight of 'Nothin''.
'Ravenous' and 'Deep Water' have a soulful groove, and the album as a whole is light, upbeat and soothing. Closer 'Willow Tree' is introspective and dream-like – the perfect way to bring it to a close.
Words: James Houston