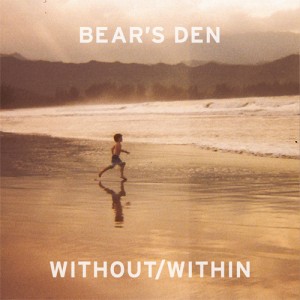 Within/Without signifies a second 2013 release from London trio Bear's Den. Following on from February's stunning EP Agape, this latest offering picks up exactly from where we were left, wanting more. Opening track 'Sahara pt.I' will already be well-known to the keen followers of the group. The slow-building song has been used in live shows as a prelude to a number of different set lists, but the studio version makes the cut for this record with a suffixed second part, albeit as a separate track. 'Sahara pt.II' is a frank admission to the lost love: "All my life/I wasn't honest enough". It carries bittersweet warmth, as a heartbeat bass drum forms the foundation for reverberating guitar riffs and harmonious group vocals. Frontman Andrew Davie has an evocative writing style – it's honest and forthright – fusing a tender spite with culpability. That nakedness is an integral part of what makes Bear's Den standout – their cards are on the table, and there's nothing superficial about their graft.
Never is that more clear than on the third track, 'Don't Let The Sun Steal You Away'. Davie hammers home his belief in sincerity with the line: "Don't let your mind speak louder than your heart." The track itself is the strongest on the record, and is the type of offering we've come to love from the trio. The steady rocking banjo line, the memorable chorus, pitch-perfect harmonies, and yet there's a maturity in the complexity of the song. In the eight months since Agape, the Bear's Den boys seem to have expanded on their ideas and realised their full sundry potential with a repertoire of instruments and timbre.
Within/Without is not only a track longer than Agape, but more diverse. The heartfelt and relatable material remains, but songs like 'Writing On The Wall' and 'My Lair' provide a lighter, quicker tempo and in the case of the latter, a brass section to call curtains on another highly astonishing record. Having recently supported both Mumford & Sons and Matt Corby, Bear's Den embark on a small UK headline tour of their own this winter. Make sure to get down a show, for you'll be hooked.
Words: Ben Barker