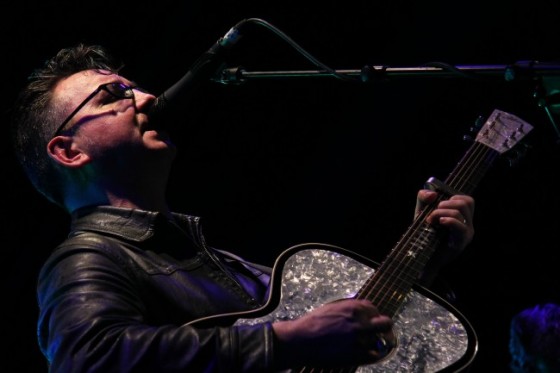 Earlier this year Richard Hawley caused something of a kerfuffle when he revealed he had turned down a slot at Glastonbury because the famous festival had become "meaningless". For devotees of the Worthy Farm experience this was tantamount to heresy, but Hawley's broadside – which also took in the slightly easier target of V Festival – was a passionate one.
"I don't like the whole corporate festival thing…and I hated every minute of it," he said. "I want something a bit more free and organic. I want the audiences to feel included rather than trapped. They've paid for the privilege to be trapped in a field and marketed to. What the fuck is that all about?"
Hawley probably wasn't thinking about Pocktoberfest – which he headlined with complete aplomb – when he took aim at his chosen targets but he easily might have been. You want free and organic? You've got it here.
You want to feel included rather than trapped? You've got it here.
You want to avoid the over-reaching tentacles of the corporate sponsors while you enjoy some fabulous bands and brilliant beers? You've got it in spades.
In terms of size this beer-turned-music festival is a speck on the landscape of Glasto – but in terms of soul, it's as big as they come.
Organised by an uber-passionate group of volunteers in the modest East Yorkshire market town of Pocklington and creating funds in aid of Help for Heroes and the RNLI, there'd be reason to support the event even if it wasn't a riotous success.
Thankfully, it was.
As an ale festival the event surely stands alone, with a dizzying number of beers and ciders to choose from, but for the music fan that was merely a very welcome bonus. After a first day of largely local performers, day two cracked out the big guns. Tift Merritt was an early highlight, providing the delicate acoustic soundtrack to the afternoon's drinking, while Hope and Social brought the party vibe with an upbeat set that ended with something akin to Whisky In the Jar via The Lumineers.
Former Squeeze frontman Glenn Tilbrook was a revelation – if only because his voice, guitar and patter seem in even finer fettle than they were 20 years ago – and Josh Ritter turned in a consumately classy set of smooth Americana.
Hawley took the stage was the hotly-anticipated showstopper and duly held court with a stunning run through of his Sky's Edge setlist.
The Sheffield native was playing for the final time before a well-earned break and gave everything. From the tender 'Seek It', through the joyous 'Tonight the Streets are Ours' and encompassing the impromtu Lou Reed tribute 'I'm Waiting for My Man', this was Hawley in stellar form. By the time his band lifted the roof with a feral 'Down In the Woods', it was tempting to reflect on what Glastonbury missed out on.
…..
Words: Rory Dollard
Photographs: Natalie Marchant