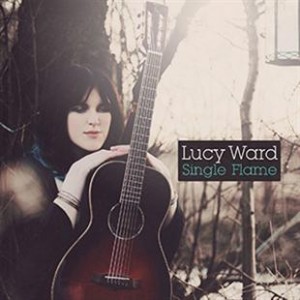 From the first drum beat Single Flame creates an intense ambience reminiscent of an emerging Florence + the Machine, using her voice as the primary instrument Lucy Ward entrances the listener with epic and satirical lyrics. The power behind 'I Cannot Say I Will Not Speak' holds a similar feel to 'I Speak Because I Can', though Ward's voice is more comparable to Amy MacDonald than Laura Marling. Regardless, the opening track is the work of a woman of great strength, determination and intense talent.
The album, though progressive is still laced with traditional folk sounds. 'Honey' is charmingly soft, Ward's Derby accent giving the song a wonderfully English, familiar feel, complementing the gentle guitar plucking. A highlight of the album, 'The Last Pirouette' feels all the more traditional in both beat and lyric, with an acappella opening Ward's voice compels the listener, really emphasising her storytelling ability, set to flowing strings and twinkling percussion.
As Ward ups the tempo, her sound takes on a jaunty feel similar to that of Keston Cobbler's Club particularly in 'Marching Through the Green Grass', illustrating the soldier's march about which she sings with intense and uneasy feeling.
With Single Flame Lucy ward has created an album that illustrates all facets of both her personality and talent. With 'Honey' and 'Ink' she shows a tenderness of soul and a light musical touch, while in 'I Cannot Say I Will Not Speak' and 'Marching Through the Green Grass' she shows musical mastery and feistiness and strength of character. In Lucy Ward we have a talented writer, storyteller and musician with much to offer and a lovely Derby accent to top it all off!
Words by Amelia Steele