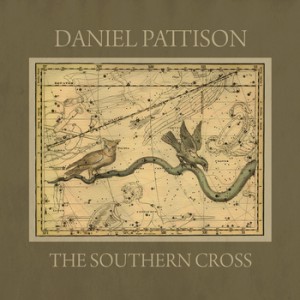 As soon as the first line has been sung on Daniel Pattison's debut EP The Southern Cross you'll be aware that Pattison's is one of the most noteworthy male voices of the last twenty years. It's a gorgeous voice – something that is hard to say of a man singing. Guy Garvey's voice is not gorgeous, it is warming and homely. Sufjan Stevens voice is not gorgeous, it is gentle and honest. Gorgeous is a word that is paired so rarely with a male voice that when it happens (with, say, Jeff Buckley or Antony Hegarty) it's easy to forget to listen to the rest of the music. Do not make this mistake with The Southern Cross.
Pattison is more than the sum of his vocals. On opener 'Perihelion' he balances that voice precariously over subtle and intelligent lyrics and flickering instrumentation. It's the closing track, 'The Song Of My Name' that stands out on a bold debut. Where the opening tracks make full use of Pattison's vocals, the finale draws them close and leaves more room for his lyrics to make an
impact. "I sing to you/ help you understand," he says, "I'm no father to you/I'm just a man".
If ever a more stark confession has been made in song, I don't think my heart could take to hear it.
Words: Stephen Thomas