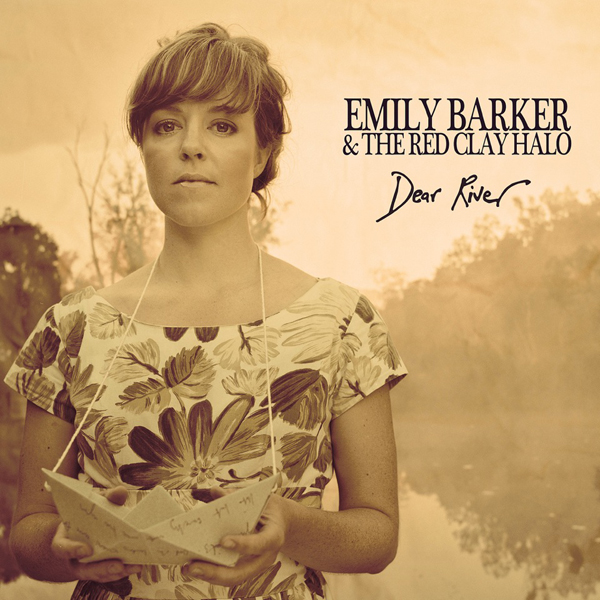 Dear River, the fourth album by Emily Barker & The Red Clay Halo (EB&TRCH) and their first for Linn Records, is that rarest of records: an instant classic. With not a gram of filler, it's the kind of album that immerses you from the first note to the last and leaves you wondering where the intervening 40 minutes went. Subtly knitted together by a combination of skilled musicianship, literate yet accessible songwriting and an exquisite quality of sound (due in no small part to the work of producer/engineer Calum Malcolm at Glasgow's Gorbals Sound studios), Dear River leaves other bands with lots more time and money at their disposal trailing in its wake. Yes, it's that good.
Musically, there has been a noticeable yet natural progression from 2011's Almanac and the "chamber folk" style presented on that album now includes clear influences from other musical idioms: pop, rock and, perhaps most of all, Americana. Lyrically, the focus of Dear River is home, which might sound a fairly simple idea but which is actually a very nuanced subject.
Title track and first single 'Dear River' introduces itself with a catscratch of muted harmonics leading into a loping backbeat which steadily gains momentum; the four-part vocal harmonies which are such a hallmark of the band sit well in the mix and a spiralling bluegrass-infused violin break tops the whole thing off with panache.
Throughout, the mixture of styles, sounds and textures work together to create a cohesive whole. Acoustic tunes such as 'Tuesday' and the optimistic, upbeat 'The Blackwood' sit comfortably alongside the highly danceable rocker that is 'Everywhen', where the motorik sensibilities of Kraftwerk are overlaid with the swirling swagger of the classically-grounded strings of Jo Silverston and Anna Jenkins, to create a genuinely new sound which is surely destined to become a mainstay of drivetime radio shows everywhere.
'Ghost Narrative', with its optimistic themes of healing and unity, is a deft midtempo pop/rock number which sets Emily's bluesy harmonica against Ted Barnes' lead guitar to build an epic coda of which Neil Young would be proud.
'Sleeping Horses' drifts in on clouds of reverb with a bass like intermittent rumbles of distant thunder. A heavy-lidded meditation on full moon fever on a hot summer's night, a stargazer's hazy reverie in the stillness of the small hours with Gill's slow-breathing accordion sparkling like the Milky Way, it's a beautifully restrained interlude.
The uneven tempo of 'A Spadeful of Ground' with its staccato banjo and guitar neatly tied together by a smooth string arrangement and Nat Butler's restrained but inventive percussion, provides a compelling backdrop to a keenly observed retelling of the history of the 18th century colonisation of Emily's Australian homeland.
Elsewhere, 'The Cormorant and The Heron', with its theme of inherited loss, builds on a simple, fingerpicked solo guitar chord progression to a huge, spacious ballad in contrast to the understated, almost monochrome arrangement of 'In the Winter I Returned'.
Dear River is the sound of a group of women musicians who have bonded over endless miles on the road, playing music they love – their music – to enthusiastic audiences, to an increasingly capacity, everywhere. EB&TRCH are sending a wake-up call to anyone who still thinks contemporary folk rock is a men-only affair. Indeed, they are a group whose star has been in the ascendant for a long time and if there's any justice in this world, this album will bring the commercial breakthrough they so richly deserve.
Above all, Dear River is the sound of a group of women musicians whose sheer passion for their music informs every last note and bursts out of the speakers at you. How could you not like this record?
Helen Gregory
(Abridged from The F-Word)