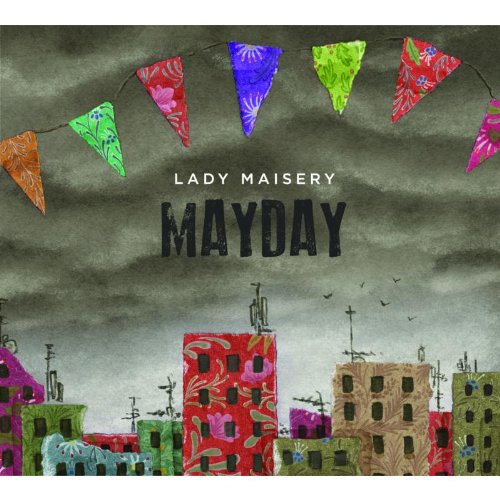 If there has been a quiet revolution in folk music in the last maybe three years – and I do not claim for a second that folk music could do a revolution quietly – it's the re-emergence of close harmony singing. There have always, perhaps, been a surprising amount kicking around for a sub-genre so slow and unshowy. The Devil's Interval for example. But I want to be bold and call this recent blossoming – including groups like The Young'Uns and several big-name collaborations, many of whom are spinning off the folk music degree course at Newcastle University – a full blown trend. The word 'movement', perhaps, is too strong.
None of these groups, as yet, have had any kind of crossover success. Indeed until Mayday, the second album by vocal harmony trio Lady Maisery, few – if any – of them were producing material that even looked viable for crossover, especially when it came to recorded output. I think Mayday has changed this. And I think what sets it apart is a combination of quantity of quality. By quantity I mean the sheer breadth of techniques, tones and textures that they've manage to show off in one album; and by quality I mean the unity of spirit and peculiarity of vision that binds the project together.
On the medley 'Constant Billy/The Lie of the Land' for example, the trio show off their tune-singing, or 'diddling', which on their website they claim to be one of the first modern groups in Britain to explore. A sort of scat-singing, it takes the place of obligatory trad-album instrumental track and is impressive if only for its immense dexterity. A cover of Kate Bush's 'A Woman's Work' brings the album as near as it gets to pop despite the glorious folk violin accompaniment. Another style again, and another highlight, is the group's namesake 'Lady Maisery', a spectacular, unaccompanied murder ballad whose every line is a mini 'Rains of Castamere' in terms of gruesome head-on-spike scaremongering.
These things combine to form an album that captures Lady Maisery's live impact far better than their debut – 2011's Weave and Spin – whilst feeling in and of itself a consistent and well-realised whole. But there is an irony in their approach. In order to sustain an album built around close harmony singing of this kind, and to demonstrate its viability as the driving force of a new and progressive aesthetic, the trio have had to employ a great deal of instrumentation and accompaniment. The album is no less triumphant for this, and without their inclusion would have made for a difficult and frustrating listen. There's a subtlety to the way these things combine on Mayday; a quiet counter-revolution.
Tom Moyser
Mayday is out now. To become part of the revolution, watch Lady Maisery's recent performance at the Shepley Spring Festival: