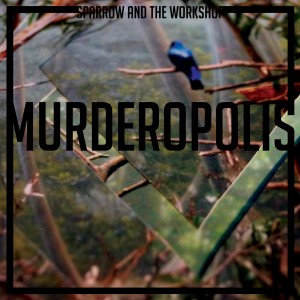 With past albums from Sparrow and the Workshop in mind, 2010's Crystal Falls and particularly 2011's Spitting Daggers, it wouldn't be off-key to expect another thematically dark album from the Glasgow-based trio. One also may not be surprised to learn their recent offering's title immediately screams of menace within. So you're expecting dark, and you get it. But whilst Murderopolis delivers haunting melodies and dramatic bass lines, alongside the darkness there's a new-found fire which is a joy to hear, indicating there's more to the album than just tales of torment.
The opening track, 'Valley of Death' is a beautifully melancholic introduction, the seductive beat complementing the poetic romance of the lyrics of the first verse, which gradually become more brooding as they focus on reality escorting a relationship to an end. In 'Darkness', the ominous guitar and drums present an instantly intense build-up, only to be joined by a hypnotic chanting from Gregor Donaldson (drums, vocals) which makes way perfectly for the almost tortured delivery of Jill O'Sullivan's (lead singer, acoustic guitar) vocals in the chorus. The intensity continues throughout, with Nick Packer's (guitar, bass) feedback at the end dragging in your ears uncomfortably for well over twenty seconds, extending the unsettling feeling sparked from the outset with awesome effects.
Despite the emergence of a sinister pattern Sparrow also manage to have fun with it, meaning the album is far from being all gloom. Take their title track, 'Murderopolis', which has a spy thriller sound to it, where you almost feel as if you're receiving a warning of danger approaching. Or 'The Faster You Spin', in which Jill irately cries 'Fame Whore!' over the accusatory beat. The frustration that comes through in the lyrics to 'The Glue That Binds Us' is strongly emotive, as the tones imply an argument being raged about no longer needing each other, which eventually begins to sound as though it's actually just one person trying and failing to convince themselves of the fact.
But, back to the flames. The flash-fires of fury in Jill's voice swell as she practically snarls or roars the lyrics, but then just as quickly and unexpectedly crackle and subside to smooth, melting melodies. The wistful 'Autumn to Winter' brings the album to a contrasting end, as it turns the conflict in on itself with the final lines, 'When the winter kicks me in, I'll close my eyes and there you'll be again'. What is often an ominous, even threatening album at times ends on a final promise of hope burning through a cold winter. Murderopolis offers a development of maturity within Sparrow and the Workshop's darkness which permeates through the confrontation and anger, and can eventually give way to potential hope over the angst.
Words: Jules Foreman