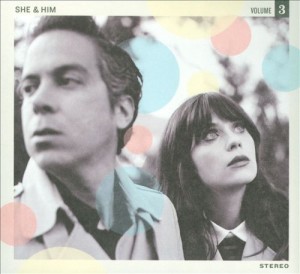 We're guessing it wasn't a long meeting between M. Ward and Zooey Deschanel before they settled on the title Volume 3 for this, their, uhm, third collection of 60s-tinged pop. But it wasn't just the title that was inevitable about this record. You could already guess the sunny sound, the (deliberately) corny lyrics, and the format of a handful of carefully-picked covers surronded by a host of time-warped original compositions.
To that end, you also probably already knew if you were going to like this album. If you're a fully signed up member of the She & Him fan club, someone with Volumes 1 & 2 safely stashed away in the record collection alongside the Christmas album, you'll have been eagerly waiting on this release. And if those albums did nothing for you, feel free to keep on walking by.
Just be aware that if you do, you will, in our opinion, be missing out. Because, really, what is not to like about She & Him's lovingly crafted tribute to a lost age in pop music? When they are turning out music of the simple joy of 'I Could've Been Your Girl' or 'Sunday Girl' it's really a test to listen without a smile on your face. Perhaps recognising that they can only take this so far without a little reinvention, there are some subtle tweaks, an extra pinch of country twang here, a few extra horns there, and on the lovely 'London', a beautiful piano-led ballad. But on the whole they've stuck to what has worked before. Volume 3 is another collective of sugar-coated pop songs made to celebrate the pure pleasure of music.