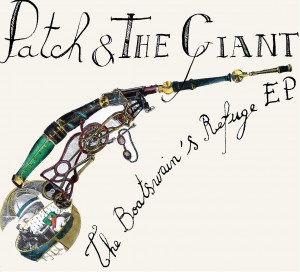 If you're already familiar with Patch & The Giant you'll have been expecting their debut EP to be named after a boat or a boatman. And so it is. Drawn from all four corners of our little Island – and additionally from another Island all together – this merry band of two Scots, an Ulterman, Jerseyman, southerner, Somerset shanyman and Kentish maid have always their eyes firmly out to sea. They may now base themselves in London, but we can't imagine them ever straying too far from the docklands, stood on a quayside somewhere blasting out their rambunctious soundtrack of the waves.
With a rich blend of instruments – ranging from the more straightforward guitar through assorted drums and percussion to ukuleles, fiddles, cellos, mandolins, flugelhorns and more – their merry array of sing-a-longs carry you right up the gangplank and put you on board as they set sail. They've already established a fantastic reputation for live performances, but they've captured plenty of that energy on record too.
Through the course of this five-track EP they show their range of styles with the softer, delicate 'Love And War' coming before 'The Heretic And The Albatross', which several members of the band have declared their favourite precisely because it's the opposite and they get to engage in lots of "cathartic" shouting. 'Gone', one of the more recent compositions goes through the full range from its lonesome solo vocal opening which ultimately grows into the band's trademark full sound. 'Yourself Into The Sea' then caps it off with a full-blown sing-a-long, so raise a jar of rum and dive in to a delightful debut EP which fully warms the cockles.