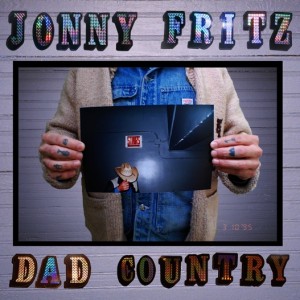 You may not recognise the name, but chances are you know who Jonny Fritz is. We can throw out there his former stage name Jonny Corndawg, and perhaps we'll still get a few blank expressions, but the name Caitlin Rose should do the trick. Corndawg has long been a touring partner of Rose, and if you've ever had the pleasure of seeing her play live, chances are he popped up on stage at some point.
But where Rose creates some straight up beautiful country music, Corndawg's own debut record was somewhat more subversive. He stayed true to his love of country in the sound, but lyrically he was much more mischievous, and we don't need to tell you much more than the name of the album, Down On The Bikini Line, to give you a sense of how that went.
But now he's decided to ditch the stagename and go with the one on his birth certificate. Matching this more personal identity is a far more personal record. Documenting, haven't you guessed it, a recent break-up, Fritz has come up with something just a little less juvenile. Not that this is some sad wallow through his pain, it's just a change of tone. He still sounds upbeat, but now he has some real meat to write about.
You even get the sense he's a little apologetic about it. "I know it sounds cliche, but it's breaking my heart" he sings on 'All We Do Is Complain' while the album's name, Dad Country, suggests he knows this could come across as dangerously old hat. But his band is too tight, the tunes too fast-moving, to render this record dull. There is still plenty that is tongue-in-cheek about this, but there is also a genuine love of the country greats and a desire to pay homage to their sound.
Not that Fritz has left Corndawg behind entirely. It's perhaps a shame that one of the best songs on this record, 'Holy Water' opens with the regrettably awful lyric "Where her belly ends and her legs begin, there's a fork in the road where my journey ends" but that now is the exception, rather than the rule. Having thrown off most of what held him back, Fritz has grown up some, and is sounding all the better for it.